It was a good thing that this race been on my radar since last summer or I may not have signed up had I left it for 2013. The 18-week lead-up was a tumultuous period – bookended by my Dad's passing in week one and the hospitalization of our family dog in week 18, it also included the announcement of the closure of my workplace and loss of jobs for many good friends in the middle. So it was a victory in some regards to get to the start line. In fact, after a mediocre late 2012 as far as running results go, I rounded into form in 2013 and had modest 5K, Half and 30K PBs in warm-up races.
My health was stellar through the training. Until late. The marathon training period took its toll on me and left my immune system weak. I realized in week 18 that minor allergens were really affecting my skin. I visiting my family doctor four days before the race and it appears I was prescribed a medicine I was allergic to, any rashing got much worse and some parts of me took on the complexion of a rooster as race day and gun time approached. But I was determined to not let this slow me down.
Race Day came and I took my usual sleepy walk to the start line. The CP24 folks from my TV set surprisingly asked me for a live interview at 7:02 AM. The runner they had lined up had gotten nervous about getting to the start line 50 metres away in the 27 or so minutes the interview would allow. Not me, I can yap. And so I did:
http://www.cp24.com/mobile/video?binId=1.1127680&playlistPageNum=1&clipId=919797
I only took a few paces and then CTV grabbed me for an interview:
And the Chinese International Newswire:
I proceeded to the start line after my fifteen minutes of fame. I knew the downhill front half, the shadeless back third and the sunny forecast for the day. I had tempered my 3:31:00 goal (5:00/K pace) that I established before knowing the weather forecast to simply sub-3:35:00 (< 5:06/K) but one always keep has in their mind "What if the bag of sun hammers doesn't club me as I fear it will?" and thus a stretch goal. Regardless, I would be aggressive in the first half as that is the only quick patch for certain. I just needed to keep enough in the tank that I did not fade more than reasonable late and leave myself with a crappy day and substandard result.
Things seemed fairly easy early. The downhills come early. I was dumping water over my head from the first aid station to keep cool body temperature down on a preemptive basis. This is at 2K - good friend Gwyn (#1295) beside me pulled away on the 6K uphill and that was the last I saw of her en route to her age group win:
1K to 7K Splits - 5:02.4, 4:38, 4:45, 4:37, 4:35, 5:28, 4:50
8K to 14K Splits - 5:00, 4:56, 4:34, 4:55, 5:05, 4:55, 4:50
14K to 20K from Casa Loma to Corktown on Davenport, Rosedale Valley and Bayview was a one long downhill but it was getting sunny, I consciously kept my pace moderate.
15K to 21K Splits - 4:37, 4:53, 4:47, 4:55, 4:58, 4:57, 4:58
This was two minutes quicker than I had run a Marathon Half before, and four minutes off my Half PB, so aggressive but the quick kilometres were done for everyone in the field. The sun was out, the course was going to get less shady.
21 to Half - 0:29 for 0.975K
+ 0:20.4 GPS to Race Imbalance, First Half
Official 21.1K Timing Split - 1:43:05, 361st Place of 1694
22K to 28K Splits - 4:57, 4:53, 4:50, 4:57, 4:55, 5:03, 5:05
Around 26K we hit the Lakeshore and into the relentless sun. Now I had been pouring water on my head regularly throughout the race and with my skin coming to the race in bad shape, I was chafed bad. I tried running with one arm out of my shirt at 29K, then both arms out. After one last attempt to take off my shirt and jam my shirt down the back of my shorts, it became clear at that point I needed to channel the Iron Sheik in choosing shirt placement: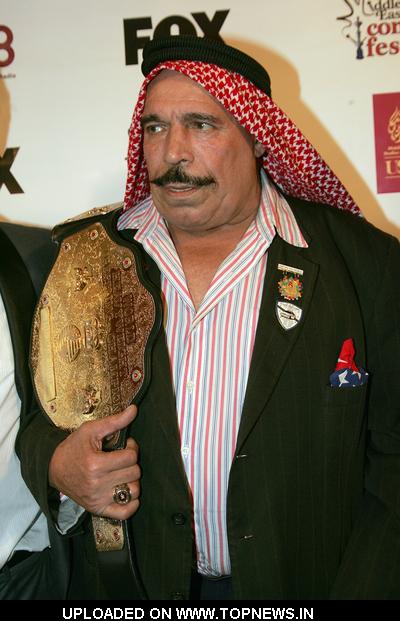 Aside from having to retie the sleeves around the front of my forehead every five to ten minutes, it worked great - the cold compress around my head and cold wet shirt body hanging down my back, I was able to stay cooler than most. And it was a great look!
29K to 35K Splits - 5:07, 5:08, 5:05, 5:12, 5:15, 5:15, 5:28
Official 35.?K Timing Split - 2:55:47, 299th Place of 1694
I imagine I was quite a dishevelled mess by the end. My sleeves were dangling over my sunglasses much of the last 7K into the sun as I pulled my Sheik-lid down to keep the sun off my face. Comments like "Way to go Dave, Styling and Profiling" made me realize folks knew from my bad outfit, exposing of a questionable body and dead-man's gait that I was scrambling as I could and this encouragement kept me going. And I was finding runners to pass though I had slowed noticeably.
36K to 42K Splits - 5:35, 5:25, 5:32, 5:28, 5:42, 5:33, 5:22
0:55.6 for last 0.195K (4:45/K Pace)
+ 0:15.2 GPS to Race Imbalance, Second Half
3:33:33 for #111!

Official Result - 3:33:33.8 (5:04/K Pace), PB by 0:01:50
Gun Time - 3:33:53.6,
283rd Place of 1694, 47th of 174 M40-44
And the best post-race prize ever, Wally the Family Dog could come home after four days in the Emergency Clinic: