Short report - 18. Cheryl, BC 191 F 48 3:53:38 8:55 2 / 15 79 / 294 18 / 127 3:53:46 8:55 0:08 BMQ
Long report (and you've been warned- it's going to be long!)
The Capitol City Marathon in Olympia was intended to be my practice race for Victoria. Really and truly that was it's purpose. While I was more than open to giving it a PB effort I wasn't focused on that. My focus had been to train well and to go out and celebrate being back to running a marathon.
We drove to Olympia on Saturday and I was happy to see that the hotel's front door literally opened onto the start/finish line. Sweet!
We went for dinner and ended up eating later than I had hoped, about 7:30. Back to the hotel where I tried my best to get to sleep with three other people in the room who were not ready to go to bed. It was not the best night's sleep but that's life. I woke up at 5:00 am, ate breakfast and was out the door at 6:30 which gave me lots of time for a good warm up and stretch. I felt good, ready to go, excited to start.
My race strategy was to hold back on the front half, evaluate where I was and how I felt at halfway, and then decide whether to go for it or pull back and enjoy the ride. There were pace bunnies and I decided to head out with the 4 hour bunny and see how that felt. It felt fast. The bunny way very nice but she hit 5:20/k pace right off the bat and stuck to it. I overheard her say that she likes to bank time on the first half. uh-oh- the opposite of my plan. At about 3K I made the decision to slow up and let the four hour group go. That was difficult but I knew I couldn't stay at 5:20/k without risking blowing up in the second half. Off they went.
The first half of this race course is full of rolling hills, one after the other, on and on. I was handling them well but couldn't help thinking that they were zapping my legs.
I hit 10K at 58:xx, right on target. Half came at 1:58:20 and I was feeling really good. I had told myself that if I hit half at close to 2:00:00 I would go for the sub 4 and so I started to pick up the pace.
At 23K I caught up with the four hour bunny, they were slowing down and I was speeding up. I stuck with them for about 6k, it was nice to have some company and the bunny girl was very positive and encouraging. I was taking water at every aid station and squeezing sponges over my head- I hadn't ever done that in a race before and it felt GOOD.
gels were going in about every 45 to 50 mins and I was sipping at the electrolyte that I had in my fuel belt. At 29K I pulled ahead of the four hour group and I would not see them again. 30K and I'm at 2:48 or so, WOO HOO. I know there is a big downhill at the end where I'm going to pick up time and that if I can stay ahead of 5:50/K I'm going to nail this.
At 31K I look up the straightaway we were on and see dh and my boys
I ran right to them and high fived and they were hollering and going crazy.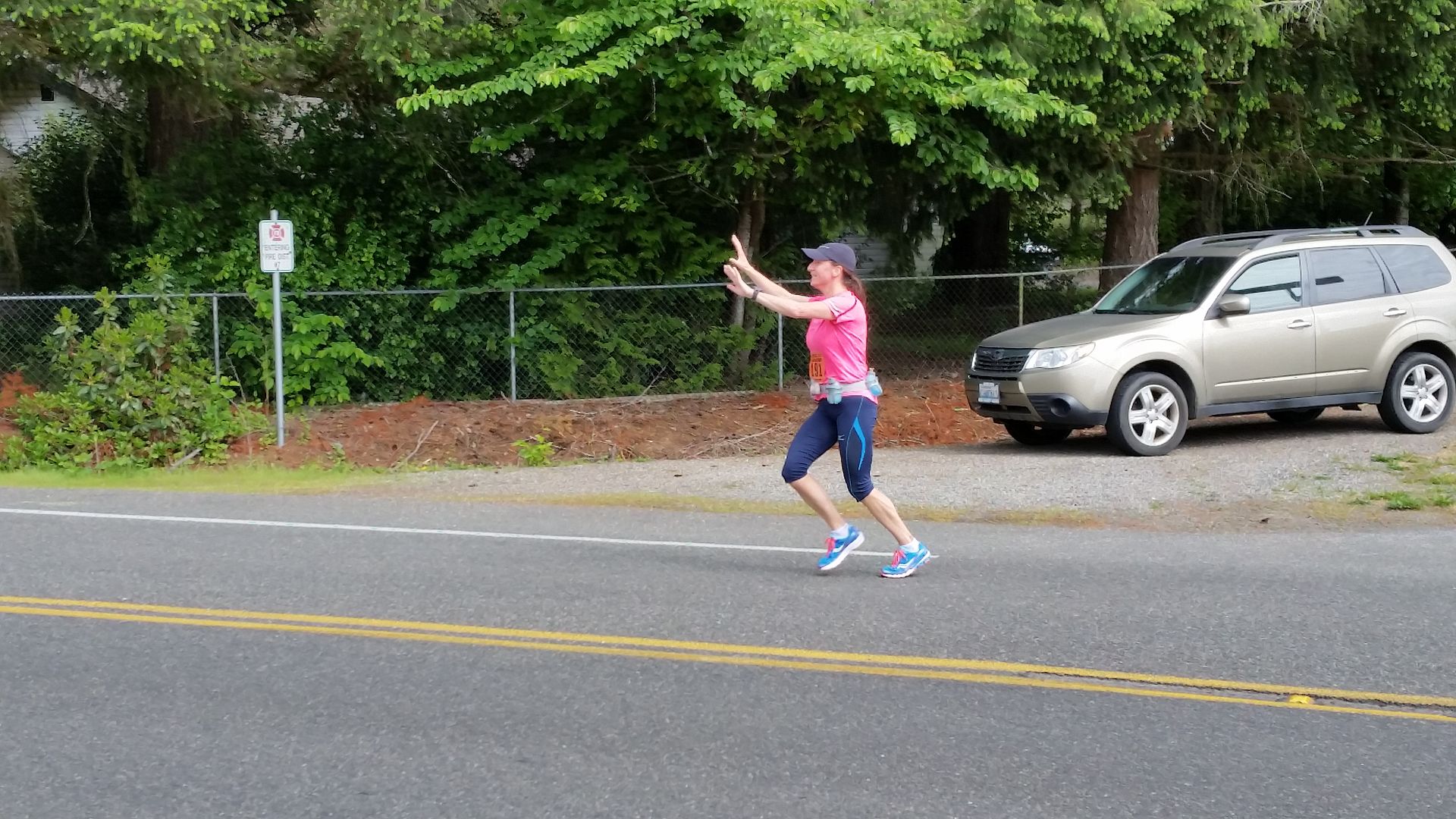 That was a huge boost. I saw them again at 32K (they were on the wrong side for another high five so I just gave them a wave and ran on by)
and then they drove past me at about 34K.
At this point I am feeling it- we are in a residential area now and there are lots of people at the end of their driveways shouting encouragement and cheering. I soak it up.
35-36K and we start heading up the last hill and it's brutal. really, they put this here at this point of the race? I'm mad but determined to keep a 5 at the front of my pace number on my Garmin. I'm so mad I find myself yelling out loud "son of a *****" but I refuse to let this hill get me. Finally it levels out, I know the downhill is coming, I look at my watch and realize that not only am I going sub 4 I can,if I crank it out, BQ this course.
It's go time. My legs are tired, so tired, my tummy has had enough- the last gel I took at about 34K is talking back to me. I tell everything to shut up and out loud I tell myself "go Cheryl, go, you've got this". On the inside of my left forearm I have written K.McD.'s RE (Karen McDaniel's ridiculous enthusiasm). I had promised my auntie that I would qualify for Boston again. 40K I'm looking at my arm and I know that I've got it. but by how much?
Finally the downhill, and it's quite the down!! My legs are turning over so fast that I'm worried about wiping out and face planting. We go past the Capitol building but I don't bother to look at it. I'm too busy looking for the finish line
. about 750m out there is a guy wearing orange about 30m ahead of me. I hear a spectator yell out "move it buddy, don't let her chick you". ha ha! I pull up alongside him and he says 'there's nothing I can do about it man'. I pass him and the next runner is a young guy about 50m ahead. Finish line is close now. A spectator yells out to me "go get him". Game on. I look at my watch and see I'm running a 3:29/k, this is FUN. I pull up to young guy and pass him, the crowd is going nuts. Young guy is determined not to let an old lady beat him and he pulls up even with me. I have a huge smile on my face and hear the announcer say "look at the race we have here folks, who's going to win?". It took a photo finish (by dh)but the dude got me by a half step. I look up and see my boys straight ahead at the end of the finish chute and run to them and burst into tears.
3:53:38. 6 mins PB and BQ for my current age group. Who would have thunk it? BQ came 5 months early. Now I just have to wait and see if 1:22 mins gives me enough of a cushion to register for 2016. If not I am going to run a full next spring and qualify for 2017.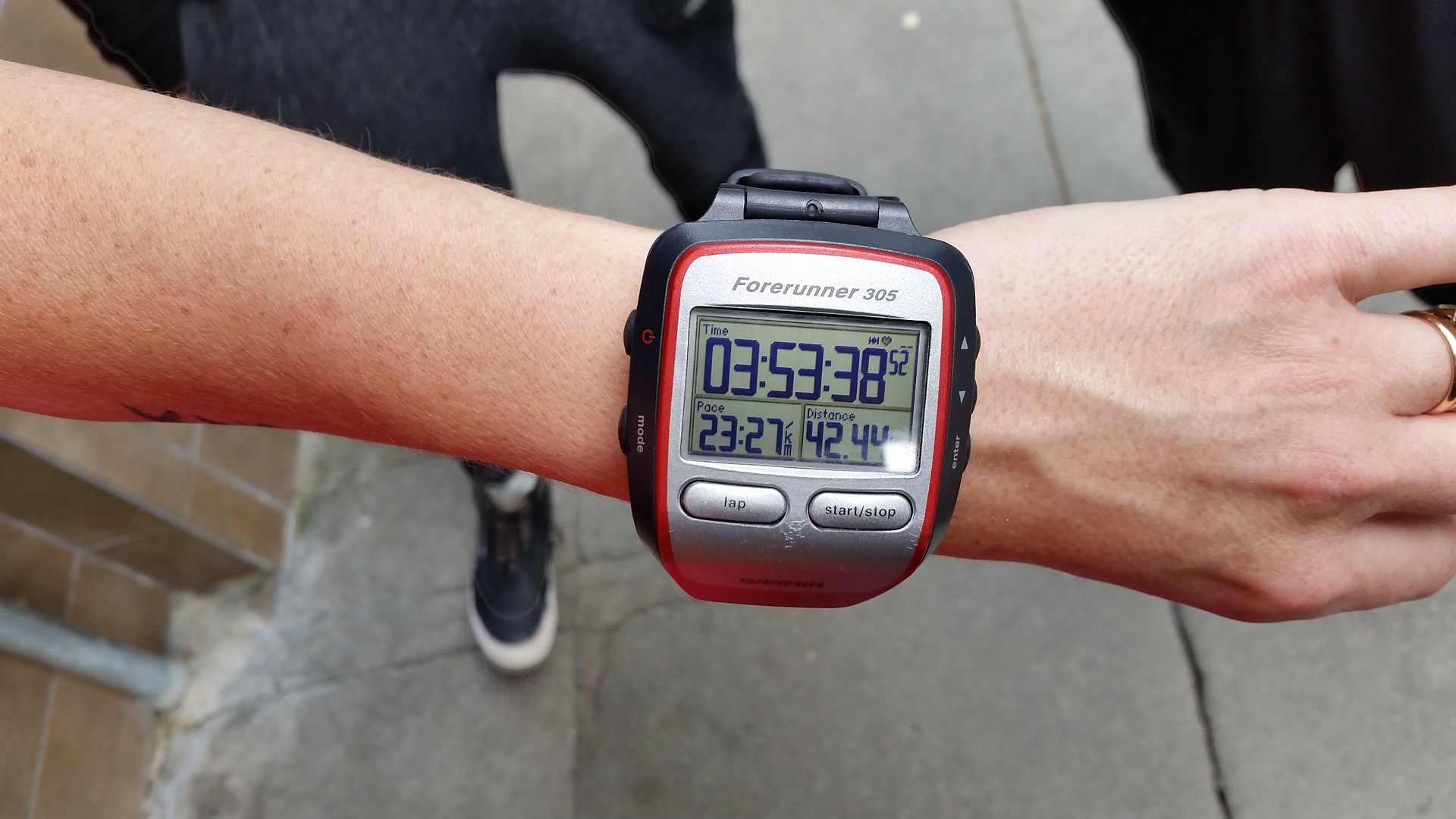 I feel pretty good today. I had a cold bath yesterday and again this afternoon. I walked for about 15 mins after finishing the race and went out again today for about 30 mins.
The only owie is an epic blood blister on my right big toe.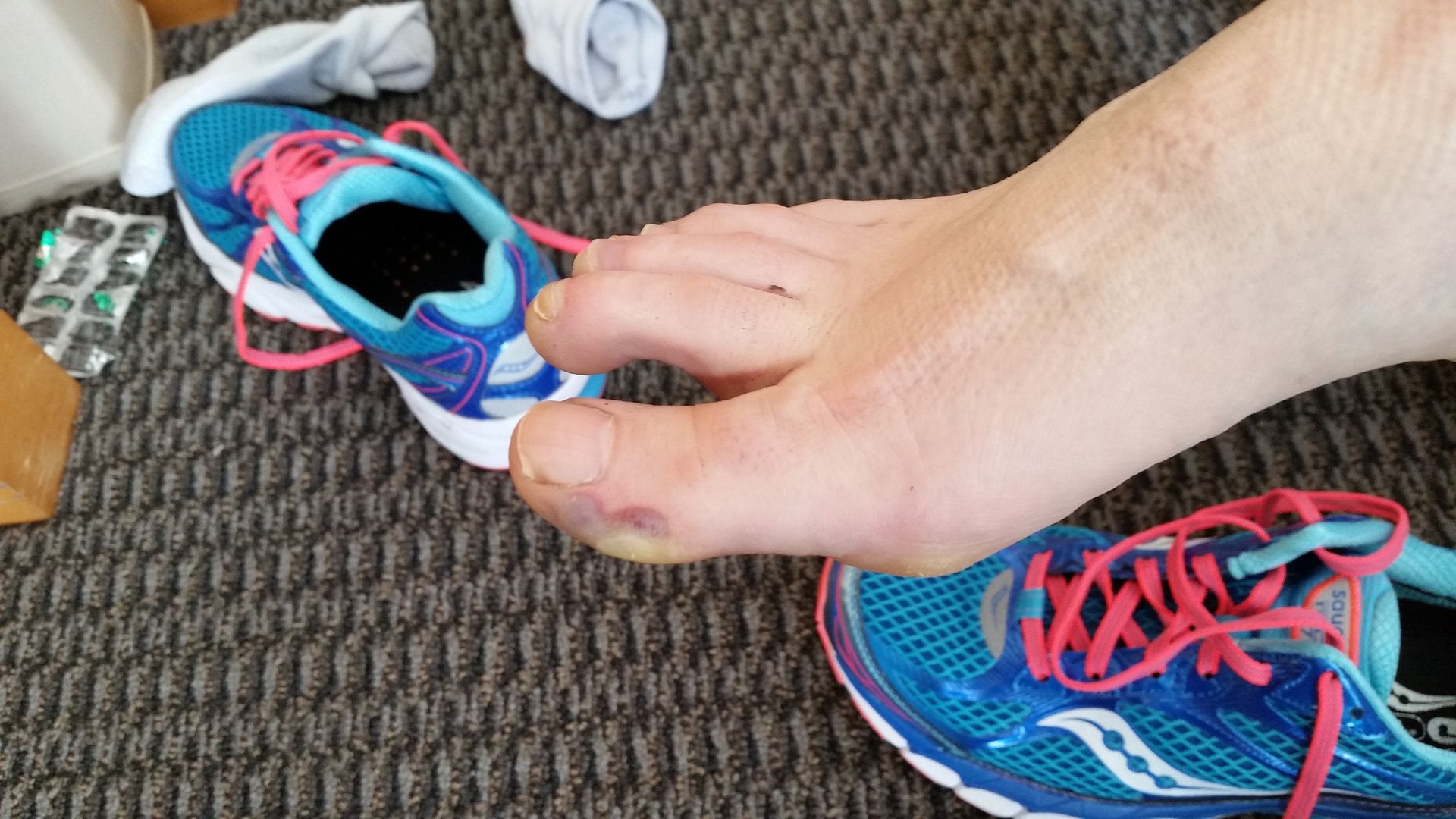 What a day! I am ridiculously happy