On the road, 4 people in a family wagon heading for Boston and its historic marathon. Friday traffic slowed us until the border, then we were cruising. 9 1/2 hours flew by quite pleasant, Robbie-T brought his satellite radio hookup. 1 am we pull into Arlington, a nearby suburb just past Cambridge where we are staying at a friend's home. Caught up over a beer and a well earned night's sleep.
I think staying in a private home was a warm and calming influence all weekend. Huge thanks to Bracebridge Jane. Saturday morning we jumped on the T to go downtown to the race expo. A 10 minute walk and maybe 20-30 minutes on the subway and there we are.
That's my sweety and 17th biggest fan.
The expo has been well described in several other reports; it was big, crowded, hectic, and exciting. Saw lots, got lots, walked lots. There were many many big names in running that we just missed seeing at various booths and seminars. Besides the predictable potions, bars and pamphlets we got a very cool Hanson-Brooks Distance Project -tshirt for free. Of course we bought officially authorized merch, the main reason we were there. I got the jacket, matching duffel bag, 4 hats, and a black tech t. Really it is very nice stuff. $234.
Back to the house, we checked out our loot on the 2 balconies, chased from the 3rd floor to the second by the wind. That night we went to a birthday party in a bar at Harvard Square for a friend of our hostess, there were some local runners there. Hockey game on tv that Boston won.
Sunday morning we were downtown to see the middle 2 of 4 loops of the American women's Olympic trials, very inspiring and entertaining. Canadian Brunch was great fun for me, but the marathon talk got Robbie a touch nervous. Met some new people there too, and I won a "Canada" fleece jacket. After a brief visit to the marathon finish line, we went home to chill. After another easy afternoon, we had a pleasant pasta and salmon dinner at the house.
After another great sleep it was race morning. I was taking the race part of all this pretty casually, unlike a certain fellow traveler who had high hopes and big goals. My knee had been worse that week than in the last 2 months, but the swelling had gone down just in time. Still my training hit was undeniable. My goal was to finish happy, hopefully in three forty something, aka 3:45 plus or minus 5 minutes. I drove us out to Hopkinton with our 2 tripmates, actually out to a state park about 3 or 4 k from the start. From there the shuttle buses had a clear run on closed roads right into town, it all worked very smoothly and we got there by 8ish.
Athlete's Village was cool, we got a Poloroid taken at some booth. Lots of powerbars and gatorade, all you can eat, maybe too much, burp. Eventually Robbie headed off for the first wave start. I had realized that I had left one of my four bags in the car, with my gels and Garmin. Even that didn't faze me, I was very casual and low stress all weekend which I thaought was a good sign. Then it was my turn to take the walk down to the corrals, a little bit of history like so many things. And one more porta potty stop.
I never saw Chris in corral 14, or anywhere on the course. I was about 1/3 back of the first corral of wave 2. A bit exciting as the countdown descended. And we're off. Now for the running, this part is familiar. It is downhill for sure at first, almost all first K. Then easier downhill. The thing about being in the first corral is, there is nobody to pass. Usually you can judge your running by how many pople that you pass versus how many pass you, but all I saw were hordes flowing by. It was hard not to let them pull you along faster than the plan. The sun had come out 5 minutes before the start, and I was getting hot, sweating more than I would have guessed. First 5 K just under 5 minute pace, I was okay with that because it was easy downhill going. Still a little fast. It was harder than average t gauge my pace without the watch,; every mile was marked as well as timers every 5 K. My biggest concern first half was the heat and going a little quick to sustain it. Still I'd take a PB if it fell in my lap. It didn't.
I started to lag a bit just before the halfway point. Wellesley College was everything I'd heard, well really not much kissing going on but it was loud and inspiring. Everybody wanted to highfive; I tried to do them al but I gave up about 3/4 of the way in, it was just too much. Soon after I realized that my shoulder hurt from all that and it still does. It was a boost, but I knew by here that my second half would be slower. First half time 1:47.
By 25 K my right hamstring started to twitch, that's what gave me grief in my last marathon. By 30 K it cramped, but I didn't panic like last time; 10 seconds stretching it and I'm good to go. Then my left one started and then cramped, same thing. At this point I went into survival mode, my goal now was 1: to finish, and 2: to finish running. I slowed down, and made a point of walking whatever I needed at every water station. I was drinking a lot of Gatorade; Robbie had given me one gel that I took at 10 K, and they gave me 2 on the course at 25 K.
The Newton hills I didn't mind. I was surprised that there were so many medium hills in the first half. I've heard that the first half is downhill, but it is really down 2 up 1, repeat. Again the Newton Hills i was ready for, and at my new slower speed and lowered expectations they were no problem. First place I saw people struggling but not the last. Ironically, during my fast first half, people seemed to be flying by me, and during my largely slower second half, it seemed like I was passing more.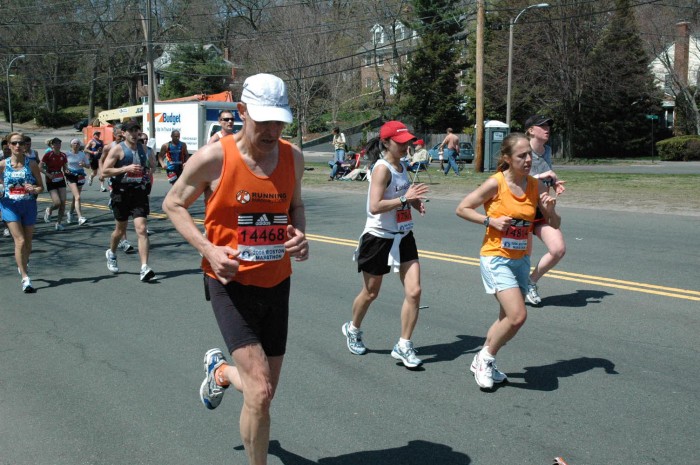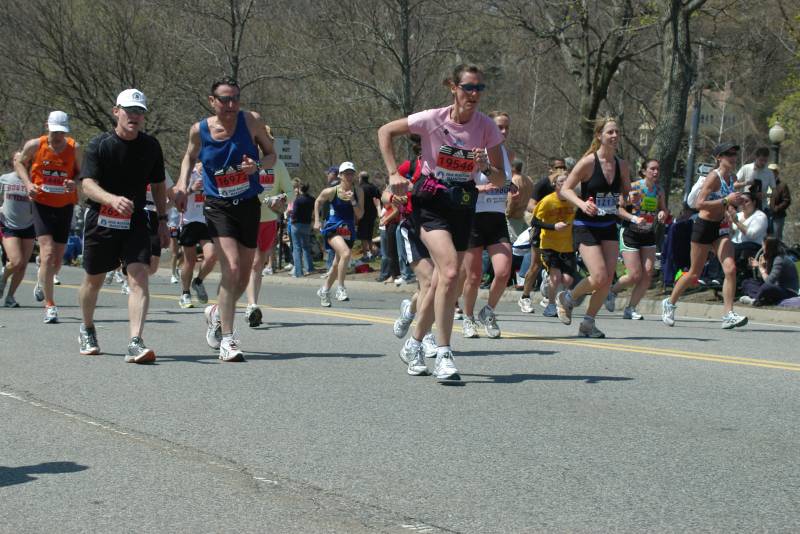 Some hill shots.
After the hills, the breeze and the downhill were welcome but the damage had been done. I had to stop a total of 3 times to stretch my cramping hamstrings, and was just trudging along. But I was running, except through the water stations, not even shuffling. Still not anywhere near my previous 2 marathons, but my "survival mode" worked. I even felt a little better for the last 5 k, past the all important 38 K mark where Heather and Jodi, and the maniac crew, were all spectating.
Me at 38 K, I pulled over to get a kiss.
The finish was great, the huge crowds got much huger. I think they were piled 3 and 4 high at points. I was kicking along slightly better knowing the end was near, but my left hamstring went off within sight of the line. I sort of limped across the finish, very suiting I guess. My actual finish pictures are better than most places on the course. Woo hoo, I just ran Boston.
http://tinyurl.com/4eqck4
Edit: Wow I actually posted this without mentioning my time! What have I become? It was 3:52, so a 2:05 second half.
After getting through the crowds to get my chip cut off, my medal, food, and checked bag, I was off through the city streets to find the Strider's hotel suite. Beer and a shower there was so great, thanks so much guys. The camaraderie was pretty good too, the ITT crew.
Eventaully we got to the post race Maniac Meet and Greet dinner/ beerfest, and it was good. So many stories. Great days and long days, we all shared our races. The new to me maniacs were great, what a crew from Winnipeg. Hi Pam. As each person showed up, we ate up their stories, until our dinner arrived. It was good.
Okay maybe I was skeptical/cynical about the Boston runner Mecca magic, but this town does it right. It might not be the World Series but it is like the World's Fair of running. All weekend the whole city seemed full of runners. The great crowds I had heard about, but they outdid their reputation. Even and especially after the race, the city's respect shined through. So many times walking after the race, with my medal and silver cape on, I was sincerely congratulated, with something resembling awe or adulation. Little old me! We were pulled out of the subway line, to the gate where all marathoners ride for free. I was literally applauded more than once, just me walking alone. That I wasn't ready for, let me tell you it does a lo to dispel cynicism. Using dgrant's scale of how far a race is worthy driving to, this more than justify's the 9 1/2 hours it took each way. Well done, Boston.
The swag.
All that's left is to get used to wearing this stuff in public with a straight face. I tried it out tonight on the trail, my dog didn't laugh at me a bit!