And we are off!!
Happy runners.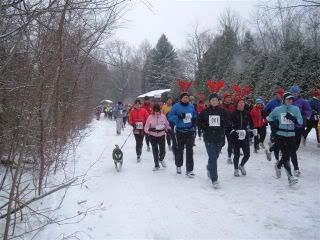 Burning in.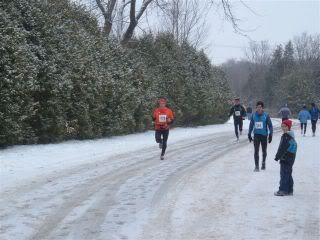 The Finish.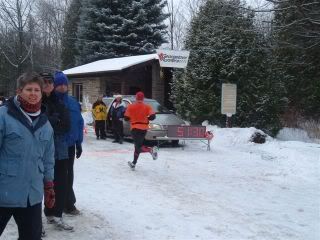 Prats Hubbie, Prats and Robbie-T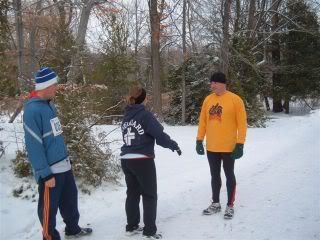 Terra Cotta Conservation Area, nice eh.
A few inches of snow fell in the morning made the roads a bit of a challenge to get good grip. The weather was good although, very little wind, temperature just below zero, and just a slight bit of snow falling. This is the only race I have ran more then once.
We had a First birthday party for my son the day before. That was fun but a bit crazy with all his baby friends everywhere
10:30am start time was excellent, no rushing, and no need to get up too early. I found and talked with Doonst before we started.
Then we were off, we start down hill for 2k - 8:04!!, then turned and ran some nice rolling hills, then some bigger hills. This race I actually felt like I was racing, opposed to me just pushing myself, me and another guy were switching positions often, and he kept me pushing hard. I'd pass him going up him and he'd pass me going downhill. Up the big monster hill and zoom past the bag piper, he was joy this year to pass, I remembered last year thinking he was more of the grim reaper as I ran up that hill.
Once we got past the hills and on the road again I was off, I didn't see my racer again until the end. I felt strong this entire race and the last few k's I was able to finish fast.
I was looking for the other Maniacs to finish Tim, Erin, Sheldon but only noticed Sheldon come in, howev
er I did likely see Tim and not notice him since he finished just ahead of Sheldon, and I missed Erin's finish too.
Although on the way to the shelter to get some grub I did run into Erin and her Hubby on their way out.
The grub was great, egg nog of course, bananas, yogurt, bagels, and home made soup!!
I won a door prize!! Nice long sleeve tech shirt.
Results:
51:32 Finish Time (54:23 last year)
4:47 Pace (5:03 last year)
50th Overall of 321 (117 last year)
42nd Gender Place (95 last year)
Great race and great organization!! One of my favourites.
1k Splits
1- 4:02 - downhill
2- 4:02
3- 4:51 - rollers start
4- 5:09
5- 5:03
6- 5:50 - this is the big hill
7- 5:17
8- 5:02 - out of the hills and back on the flats
9- 4:37
10- 4:26
11- 3:06 (800m)
Now for more birthday cake and ice cream!!!
I got a few pictures that I will post once my Dad sends them to me.
Rob