PRE RACE
Thursday
We (James and I) arrived in Saranac Lake (20 minutes outside of Lake Placid) on Thursday evening and settled into our small hotel room. I was happy to see that there WAS indeed a small fridge provided so that I could unpack the cooler that contained some race day food, and some ice packs! We unpacked the car and I immediately began sorting through the different bags that I had packed. Since I made my packing list for each bag (special needs, transitions, et c.) and then packed those items into their own plastic bags, it was relatively easy to just line up all the bags in the room and make sure I had everything.
We also moved Ellie (my bike) into the back of the car, since bikes weren't allowed in the rooms at this motel (after checking out the pool house which was offered for storage – NO LOCKED DOOR!), we opted to store Ellie inside the car for safe keeping (especially due to my pre-ironman nightmares of us returning to the car to find her missing her aerobars and seat!!).
We got to bed early that night and I fell asleep pretty quickly, looking forward to our early morning swim/ride the next day (which was my LAST workout before the race!).
Friday
I (think) I set the alarm for about 7 am, but, I don't remember it going off – I think I was too excited about going in to Lake Placid and seeing everything all set up! I took my wetsuit and bike stuff out of my bags (carefully noting what I took from where on a piece of paper that I left in front of each bag!)
I changed my mind a bunch of times about the plan for the day – on our schedule, we had: swim, bike, register, expo, pasta dinner. Only the swim, the registration and the pasta dinner had defined times. I wanted to enjoy the day as much as possible, yet not be on my feet ALL day. We made it into Lake Placid around 8 am….after passing this sign en route:
Cool.
We found a great parking spot right near Mirror Lake (after passing the Oval – where everything was getting set up for race day), and proceeded down to the water. The "Morning Gatorade Swim" is from 7 – 10 from Wed – Sat before the race. They have a Gatorade tent set up where volunteers will take your stuff, put it in a bag, write the number on your hand, and watch it for you when you swim. You also get free Gatorade, Gu, and a water bottle when you pick up your stuff. It was a little surreal to be putting on my wetsuit on the beach, surrounded by so many athletes (many with M-dot tattoos!) that were all getting ready to do an Ironman in two days!!!
I got my wetsuit on, checked my stuff (had to go back to give them my shoes
) and headed towards the water. When I went to the water, James was checking out the 'Blue Seventy' demo wetsuits….which he ended up testing out, and swimming part of the loop!
(I was proud of him – knowing that swimming with all these Ironpeople is intimidating!). This was my first time swimming in mirror lake – and it was great! They have buoys every 100 m or so, AND, there is a bright white rope about 5 m down that you can follow – which means that you don't have to look up every couple of strokes (and thus get bad chaffing on the back of your neck where your wetsuit rubs!) I did one full loop (the race is two loops) in about 32 minutes – which is right where I wanted to be! I was happy with that – I got out of the water to find some of my training group getting ready to go in. That was a great surprise, since I was able to ask MORE questions that I had about race day!
I found James shortly after and we went over to pick up our dry clothes and free stuff from the Gatorade people. I didn't really want to leave the swim area, but, it was time for a bike ride!
We got ourselves dressed for our short ride – the plan was to ride out the run course (out River Road) and back on the "Bears and Cherries" – a series of 5 + 2 hills at the very end of the bike course. The order of the hills are: little cherry, big cherry, mama bear (pretty big), baby bear (tiny), papa bear (huge - since you just rode 20 km on a low grade uphill), you turn a corner and continue up a hill (which someone named "insult hill") then you carry on down a road where you think you are done the hills…but, there is one more, which I affectionately call "f***in hill".
Total ride was only 14 km, and I felt AMAZING!!!! I wanted to ride all day. I told James that I would much rather this be race day….I wanted to go!!! I figured this was a great sign! It was also good to do these hills for two reasons: 1 – James would now understand what I meant when I talked about them, and, 2 – doing them on fresh legs made me realize that they aren't all that bad.
We got back to the car, loaded up Ellie and Pauly (James' bike) and made another athlete happy by giving up our awesome parking space. We headed back to Saranac Lake to shower and change. I had decided to NOT bring a change of clothes with us to force us to go back to the hotel to change and get organized – again.
I think we ate left over pizza for lunch at the hotel (after James had a quick nap!)
Making our way back to Lake Placid, which meant RACE REGISTRATION time!! I started to get a little nervous. James snapped this picture of us driving there…..
Pauly was still on top of the car, and, Ellie was safe and sound inside the car again (I think). Pauly did a lot of traveling on the car over the weekend!!
We arrived in LP and found yet another great parking spot and headed down to the expo/registration. Once we finally found the back door to the high school and into the gym, I was ready for registration. It was really exciting!
First – I picked up my medical form:
I then made all the corrections necessary to it (changed my e-mail address) and I signed my life away – I think I signed in about 10 places saying that I wouldn't sue IMNA or the WTC if something happened to me!
Then I stood in line and finally got my pre-race weigh in done:
I left my shoes on, figuring that on race day I would leave my shoes on – however, these shoes weigh next to nothing!!
Then I stood in line – again – and finally sat down with another volunteer who would give me my race kit and put my IM bracelet on. My race kit included 5 different bags (Special Needs bike and run, Transition 1 and 2 and morning dry clothes bag), as well as my chip, and a bike pick up ticket so that James could pick up my bike for me while I was out running. They also checked my ID to make sure I was me (like some other crazy fool was going to do this race in my name??):
I was already amazed at the number of volunteers that I saw – and this was two days before the race!! I was beginning to understand what people say about the amazing and numerous volunteers at an Ironman!!
After that, we went back to the Expo to look at some of the booths, and try to get some free stuff (and continuing drinking Gatorade!):
No, they weren't giving away the aerobars.
You will notice that I'm not carrying my race kit. Sherpa James is the BEST SHERPA ever!! I highly recommend that you have your own Sherpa if you do an Ironman!!
I entered some free draws (while still drinking Gatorade) – in the background – you can see an "endless pool" demonstration, and the Road to Kona contest (US citizens only
)
At this point, the sun was starting to get to me, and, I knew I needed to sit down somewhere….it was also almost 2 pm – which was the start time for the Ironkids Splash and Dash race (Swim/Run). We headed down to mirror lake to watch the race. It was extremely disorganized – too many parents trying to help their kids!! They had the under 7's swimming out and around a buoy that was over their heads. Good thing there were PLENTY of lifeguards – I think they all managed to get 3 kids into their arms. Ironparents are crazy – sending their kids that can't swim into a race like that!!!
We didn't stay too long to watch the race, since I wasn't in the mood to see a kid drown two days before my race. We wandered back to the expo and picked up at the place we left off – the JANUS Inspiration Station (or something like that) where you could make signs to cheer people on. I made one that said "Runningmania.com – SUCK IT UP, PRINCESS" and James made one for me!
Finally….we made it to the Ironman Merchandise tent! My original plan was to not buy anything until AFTER the race….but, I was worried about the selection that would be left, and, I wanted to spend money. I figured, if something happened and I didn't finish, I was still AT the race, I still TRAINED for the race, so, I DESERVED the IM USA cycling sleeve-less jersey! So, I bought the cycling jersey, a bumper sticker, a keychain and a shoe bag.
I was getting tired at this point, so, after checking out the "general merchandise" (non-IM branded) stuff, we headed back to the car and went back to the hotel to get off of our feet for a bit (and nap!)
Friday evening featured the pasta dinner. We managed to get a GREAT parking spot again!
And…I got a high five from Elvis!
We met up with Alex and her Sherpa, Greg in line, and made our way in to eat mass-produced so-so vegetarian pasta.
The awards banquet was pretty cool – lots of inspirational videos and what not. They sure love their "loud intro music" down there!
The blessing from the Iron-Friar was a bit odd for my taste as well, but, to each their own.
After sitting at our car for about 1/2 an hour waiting for traffic to let up so we could leave, we finally made it back to the hotel to crash for the "most important 2 nights out" sleep. And, it was a good one!! I think I slept about 8-9 hours that night!
Saturday
We awoke to rain on Saturday morning. I just kept thinking – empty the skies today, so that it will be nice tomorrow!
By the time we left for Lake Placid, it had stopped raining, and, it was just wet outside. The day's plan included only bringing my bike to transition, and dropping off my transition bags. This required me to have them packed and to make some more lists of what I needed to put in them the next morning (nutrition). I went over everything (again!) to make sure I wasn't missing anything.
The transition zone opened at 10:00 – I think we were there at 10:15. SherpaJacc was incredible!! I had my two transition bags (swim to bike – T1, and bike to run – T2) as well as my bike, AND, a bag of things that had to go on my bike (garmin, bentobox, toolkit et c.) I also brought some extra plastic bags with me to cover the headset and seat. Unfortunately, Sherpa's weren't allowed into the T-Zone. I decided to do my bike first, and then the transition bags…..so, I brought my bike in….
…and found my spot. The racks all had little stickers on them with your number and name – so, you didn't have a choice about where or what direction your bike was racked at. Not that it really mattered – on race day, you ran from one end of the T-Zone to the other, and, a volunteer handed you your bike!
Once Ellie was all set-up, SherpaJacc (who was JUST outside the T-Zone making sure I wasn't forgetting anything) asked me to pose with her (notice – still drinking Gatorade!):
SherpaJacc handed me my transition bags, and, I made my way over to the racks to hang them up:
The bag racks are also numbered, so, you have to find your number, and hang your T1 bag on top, and, your T2 bag on the bottom! I tied them closed, since I assumed it would start raining again….
We hung out at the expo for a little bit, ran into quite a few people who wished me luck (thank you!) and then decided to head off to get a quick bite to eat and to check in to RM at the internet café. We were able to find a parking spot ON Main Street (unheard of – they go quickly!) and we headed into the café. We paid for 30 minutes of internet time ($5 USD) and I asked James if he wanted a latte….then, I answered myself and said "I'm going to wait and go to Starbucks later." The owner of the coffee shop heard me!!
He told me that his coffee was better. He was about to walk out to run an errand when he stopped, turned, and said to me "In fact, I will prove it to you and give you one on the house!"
I tried to order/mimick a caramal macchiato, but, it wasn't as good as Starbucks. – They didn't have the caramel drizzle!!
Anyway, we checked in to RM and I took a picture of Mirror Lake from their deck – what a gloomy day it was!!
It actually ended up raining for pretty much the rest of the day. It was pretty yucky out there. (I just kept telling myself – open/empty the skies today!!)
We ate a super yummy bagel sandwhich from "Soulshine Bagel" that was across the street from the internet café – after putting money in the parking meter! (We had forgotten to when we parked, but, were lucky enough to not get a ticket!!) We people watched along main street as we ate our bagels (saw the cutest little puppy – Lake Placid is the most dog friendly town ever!!) and then headed back to our hotel to get some more rest!
We were up at 3:30 to go meet Lesley for dinner at 4:00 at Jimmy's – an Italian restaurant that we ate at during my first training weekend in Lake Placid. Meeting up with Lesley for dinner was great. I don't think I had many remaining questions to ask her, but, her calmness and experience was a great way to spend my "last supper" before the big day.
After arriving back at the hotel, I did a final re-organization of my bags, put some water bottles in the freezer (and two Twix bars!), mixed my gel flasks and Gatorade…..and hit the sack!! I had brought earplugs (great suggestion Lesley!) and I was asleep by 9:30, I think!
RACE DAY!

Pre-Race Prep
I slept relatively well, awaking at 2:30-ish to use the washroom and wishing that it was 4:15, since I wanted to get up and go!! The alarm
finally
went off at 4:15 and I got out of bed raring to go! I went through my checklist faithfully – eat cereal, drink bottle of Gatorade/e-load capsule, eat Clif Bar (yuck, only ate part of it). I packed my bags with the frozen stuff (and stuff from the fridge) and continued to follow my list. Next up was to get dressed and apply bodyglide in numerous places! Luckily, I noticed my timing chip on the ground – it wasn't on my list of things to put on….and, if I hadn't seen it, I would have forgotten it!! I had even written out exactly where to put the bodyglide so that I didn't forget certain spots (under my bike shorts elastics on my legs)…. James and I loaded up the car – it was wet outside, but, it wasn't raining. I grabbed my "eat on the way" starbucks cold drink and gel pack and off we went!! I had pictured the ride into town, but, I didn't expect it to be dark out – and foggy! I was getting really nervous at this point. It was exciting to be heading towards my first Ironman though!
Driving into town was surreal. My chiropractor had described the scene to me – zombies with white bags (Special Needs Bags) marching towards the oval in the dusk. He was 100% accurate.
We had planned to park behind the arena, however, the road was blocked before we could turn into the arena – which, I figured it might be, but, hoped it wouldn't. I guess we had used up all of our parking god tickets! There were lots of open spaces on Main Street, but, I was worried about getting parking tickets during the day, so, I asked James to just circle back and head out of town to the shuttle bus parking lot. This would prove to be a bit of an inconvenience for him, which, I knew at the time…but, I needed to get to the race (we had plenty of time, but, I didn't want any stressors). We loaded the shuttle bus, and asked the driver about the bike for the way back, and he said "no bikes, no dogs." Fine….James said he would deal with that during the day (he had 15 hours to deal with it!!)
We headed over to the body marking area that was a bit of a zoo. I decided that I did want to find Barbara to have a familiar face bodymarking me….but, no luck. I DID, however, find Paul – he was in my marathon clinic. He was also surprised to see me – since he didn't know that I was racing!
He bodymarked me (which didn't stay on past the swim – I don't see the point of bodymarking if it's just going to be a quick thing – I thought it would be better markers/numbers).
My number on my arm was covered all day by my cycling shirt and running shirt – oops! After getting bodymarked, I was getting even more nervous!! I think this picture captures my nerves pretty well!!
We saw Barbara as soon as I was done getting marked, of course – she was doing a GREAT job!
I headed inside the transition zone – having to leave James outside waiting for me. It was a bit of a zoo getting into the T-Zone, since they had a narrow entrance/exit – making sure only athletes went in. Once inside, it was neat to see everyone in there – they were ALL doing an Ironman that day!! I put my food/water bottles in my transition bags and took my warm up pants and shirt off, leaving me with only a fleece and my shoes, since you can leave your "morning clothes" in a bag in the T-Zone. I carried my wetsuit/cap/goggles with me over to my bike to pump the tires. I was really glad I had my own pump since the line-ups to use the pumps in the T-Zone were really long. I realized that I had no food in my bento-box, since I left it all in my transition bag, but, I didn't think that would be a big deal (luckily, it wasn't!).
I left the T-Zone, found James and headed over to drop off my special needs bags. Once that was out of the way – I did the porta pottie line up thing, which wasn't that long and then found a piece of grass to start getting into the wetsuit!! (Why is getting my wetsuit on always such a challenge!!!) I applied bodyglide to my ankles, back of my neck and my arms (where I usually get chaffing) and struggled into the wetsuit. I was nervous, but, getting more and more excited!!
A couple of seconds later, Alex came by with her entourage and we exchanged our good lucks, took some pictures and headed off towards the beach! Unfortunately, we came to the "athletes only past this point" and I had to go in and leave James out.
I forgot to give him my shoes though…so, I got to go back and find him!
I went across the timing mat (they account for everyone that goes in – to make sure everyone comes out!) and waded into the water!! The amount of people was incredible!! It really made me realize just how big a crowd of 2000 people really is!!
I swam out towards the front of the line, found a great spot in the middle of the start line, right at the front. I confirmed with those around me that they were looking to swim around an hour, and proceeded to tread water for about 10 minutes. I made sure to let some water into my wetsuit to keep myself cool. Apparently it started raining at this point as well.
Then the countdown to the cannon started…
THE RACE
The Swim - 2.4 miles (3.8 km)
My plan was to do the swim in about an hour. My mantra during the swim was to be "fresh as a daisy" – I wanted to come out of the swim as if I hadn't really done anything. I also wanted to enjoy the moment – I was doing an Ironman swim!!!! I actually WANTED to be in the middle of the craziness for the first loop, since I figured the second loop wouldn't be that bad.
I don't remember hearing the cannon, but, I do remember the countdown. I started my watch (both the 11 minute repeat countdown) and the chrono function a couple of seconds before the start and I started swimming when everyone else did. I wasn't right on the line, since I started towards the middle of the start line, so, I knew that I had a tiny bit of diagonal swimming to do on the way out. The first bit was a bit crazy…there were arms and legs everywhere!! The thing I remember most though was all the Ironman logos. A lot of people had wetsuits with the m-dot on it, and I just seemed to be seeing them everywhere! I didn't sight much; I just followed the crowd out towards the turn around.
I stole this picture from La - the swim start!
I managed to be right at the buoy at the turn, and did some one arm swimming to make the first turn….swam over to the second buoy, did some more one arm swimming and started heading back to the beach – right on top of the white wire. I stayed on the wire the whole way back, and tried to find feet to draft off of. I found feet a couple of times, bumped into the buoys a couple of times, and soon, I was back at the beach!
I was shocked at the number of people that were all coming out of the water at the same time. I got out, went over the timing mat, looked at the clock – I think it said 31 minutes or so….walked across the beach and waded back into the water. I didn't feel the need to rush here. I realized that I wouldn't be under an hour, but, I was happy with the 31 minutes. I swam around the dock, and started the second loop.
I relaxed my swimming a bit, and reminded myself how cool this was – I was doing an Ironman!!!! Of course, the number of m-dot's that I kept seeing couldn't help but remind me that! I latched on to as many feet as possible to draft again and wondered if the people that were on my feet liked my orange toenails?!
I came to the turn and saw the scuba divers this time (waved at one of them!) and turned to head back to the beach. I stayed on one set of feet for a long time….until I realized that I was working a little too hard to keep up to him, so, I backed off and continued swimming. I was starting to really notice some chaffing happening on my left underarm
When I was getting close to the end, I realized that I was getting a bit hungry, AND, that I had to pee…..so, I pulled off and out of the way a bit, and got that out of the way (sorry wetsuit peelers!)
I got back on the wire and kept swimming until I made it to the beach.
Total Swim Time: 1:03:12 – close enough to my one hour goal!
12/77 W25-29, 330/2160 overall
Transition 1
I exited the water and tried to find an empty wetsuit peeler. Next time I do this, I will know that there are tons of peelers and to just keep running up the mats until I find an empty one (the ones at the end were all empty!) I had never had someone peel my wetsuit off of me before, so, I looked around, saw that everyone else was lying on their backs with their feet towards the volunteer, so, I did the same. (Luckily, I had already pulled the zipper in the back open!) I laid down and let them tug away (I think I needed two to get it off of me!) It seemed really tough for them! Ah well….it was off! They handed it to me, and I started on my way up the mats for my 400m run to the transition zone. I saw James right away!! He had his camera ready – but, the lens was closed.
I pointed that out to him. Apparently, he was waiting SOOO long for me to come out that it turned itself off. I guess I'll have to be quicker next time.
The run up the mats was incredible!! There are fences lining either side with people at least 4 rows deep cheering!! There seemed to be a lot of people that knew me since I heard my name a lot. That was super cool!! I even heard my name said with a question mark at the end a couple of times – either people were surprised to see me near the front of the pack, or, surprised that I was even doing the race!! I hoped it was the second one, and it made me happy to know that I was out there….doing an Ironman!!
I ran into the T-zone and someone called my number out and then pointed me down an aisle to get my bag. I grabbed my bag and headed into the change tent. It was really really dark in there, since it was overcast (or, apparently, raining?) outside. I could hardly see what I was doing!! I grabbed a chair and started methodically getting ready for an 8 hour ride. I looked around me and every other athlete had a volunteer helping them.
I was doing fine on my own, but, I wanted some attention too!! I saw Rebecca (chiropractor from Ottawa) finishing up helping someone, so, I called her over to help me!
She made sure that I had everything that I needed, including my arm warmers, since it was cold out…and reminded me to take it easy going down Keene – it was slippery out there, then wished me luck and I was on my way!
As I exited the tent, another volunteer called my number out. I ran over to the entrance of the bike area, down the middle, and saw a volunteer standing there holding Ellie for me!! It was great! I thanked him, and ran with Ellie to the bike exit. I couldn't believe it…James was there to see me off!!
That put a huge smile on my face and made me really happy.
I had no idea what to expect for T1, so, in my time estimates, I figured 15 minutes (as a high estimate. I forgot to hit "lap" on my watch – but, heck, that's why I was wearing a timing chip, right?!
Total time: 8:45
The Bike - 112 miles (180 km)
My plan was to ride the 2 loops in about 7:45. My training rides there were 4:00 and 3:40, so, I figured that was about right. I also wanted to try to keep my HR down around 150 even when going up the hills. Unfortunately, 150 wasn't a scientifically proven number….just an even one that I thought would work for me. (Next time I will find out my AT number for cycling.) I figured loop one would be about 3:45 and loop 2 about 4:00. I had with me my approximate splits from my training rides so I would know if I was on track or not. The splits were for 3:50 loops.
Bike Course:
Profile (two loops – the profile is for both loops):
I took off from the T-Zone and maneuvered down the steep wet slippery hill – that has a huge corner at the bottom! (I guess it's a good immediate test of your brakes!)
That picture is interesting. I don't remember the street being packed with people – I guess I was really concentrating on not sliding out!! The ride out of town was fun, I was already starting to get passed by tons of cyclists – which was fine – it's the curse of the fast swimmer, you get used to it. I came down the hill near River Road (where the run course turns into) and started the first of the climbs out of Lake Placid. The course climbs from about 3k to 12k before you get an amazing 9k of downhill. That first climb is really tough though, since your legs aren't really warmed up, and, it's such a gradual climb in places that you forget that you are climbing, you just wonder why you can't go faster than 12 km/hr! I was really getting passed by a lot of people now, but, I just kept my legs spinning as much as possible, and the HR low. I wasn't going to ruin my day by being a hero on the first loop!!
It was so nice to get to the top of the hill and to see my favourite road sign:
I LOVE these signs!!
I'm a speed demon on the downhills….although, it was a bit tougher this time, since there were a lot of people on the course, and, it was wet – any of the lines on the road are extra slippery! It was hard to get going fast, and to ensure I wasn't drafting. About half way down the hill, they had put cones on the OTHER side of the yellow line. I wasn't sure what they were for - until someone zoomed by me between the yellow line and the cones. aha! It was the "fast lane!" I knew that there were TONS of fast people still behind me, so, I didn't take advantage of the fast lane - I didn't want to frustrate the speedsters (with their disc wheels and aero helmets!). I managed to get up to 69.1 km/hr at one point though!
Coming down into Keene was sad - the hill was over. I turned the corner onto the 9N and hit my lap button.
Predicted time to this point was 50 minutes - actual split: 47:51 (2 minutes ahead). I was happy with that, considering I couldn't go all out on the hill, and, I felt really slow up the first 12km since I was passed by soooo many people!
I decided it was a good time to start fueling - my plan was a swig from my gel flask every 20 km, a salt pill and a tums every 45 minutes, and, a tortilla sandwhich (with ph/jam/honey) on the 9N and on the out and back (25km, 55km, 115km, 135km).
Riding along the 9N is my favourite spot on the ride, it's flat/downhill and I'm pretty strong on the flats. I had passed a lot of people on downhill, and I continued to pass a couple more here....although a lot of the people that I passed were starting to pass me.
The motorcycle official came up beside me all of the sudden....and he got his camera out! (They take a picture of you if you get a drafting penalty!) I was shocked...I was being so careful!! Then....they called out...."#2065 - DRAFTING"
It was called on the person behind me!! Someone was drafting off of me!!!! weird.
She came up beside me shortly after and said she was embarressed - she was concentrating on eating and hadn't realized she was drafting!! It was definitely a wake up call for me - I had to be careful!!
Next split was taken at Upper Jay - predicted time: 1:10ish - ACTUAL time: 1:04:03 (6 minutes ahead!) Yikes....I had to be careful...I didn't want to be going too hard on the first loop! I felt great though, and my HR was averaging 135 for that section, so, I wasn't too worried.
Upper Jay to Jay has a couple of small uphills, nothing to be worried about though....I predicted I would be there at 1:23 - ACTUAL time: 1:15:36 7.5 minutes ahead)....yet, HR was still around 135 - so, I was happy with that!
Stock photo of one of the small hills on the way to Jay:
In Jay, you make a left turn and start a long pretty steep climb, I hunkered down for the 5km climb and made sure to keep my HR around 150. I had a lot more people pass me here - a lot that were standing and climbing really hard. Yikes. We were only about 30-35 km into the 180 km ride....I wasn't getting out of my saddle yet!! I was starting to notice the chaffing on my left arm a bit more, as well as some under my chin - which was a new spot for chaffing
.
This climb is a steep one that levels off once in awhile, then climbs again...if you go look at the Bike Profile - it's the part around 20 miles....it's actually a good stretch before you get to the "out and back" portion of the course, BUT, there are a couple of times when you think you are there - the city sign for Wilmington is at about the halfway mark....and there is a sign that points to Haselton (where the out and back goes) quite a bit before the turn as well. There were two kids on the side of the road dressed in Harlem Globetrotter outfits, with huge afro's - they were running up a hill beside the riders cheering them on. I really liked them, and I asked them to be there my second time around!
I got to the out and back and took another split - expected time was 1:50 - I was there at 1:41:16. Coming around the corner onto the out and back, I had planned to stop at the aid station to use the washroom (one reason that I was glad I was about 9 minutes ahead of schedule!) - but, I didn't see any....so, I continued on!
The out and back was really packed at this point. There was tons of drafting going on - which I stayed away from - even accidently passing people (who immediately passed me back). If you start to pass, you have 20 seconds to complete it.....so, once I realized that I was gaining on someone, I completed the pass, tucked back over, and then shortly after, they passed me again. The out and back could also be called the "down and up" - there is a great downhill - but, this time you know you have to come back up it on the way back
. I saw quite a few people with flats and hoped that I would be okay!!
Stock photo of Haselton Road (the out and back):
There was WAY more bikes on the course than that!
Coming into the turn around was great! You could hear it from far away. the little town of Haselton all comes out to work the aid station, and it was set up like a race car track - they had black and white checkered flags all over the place, and the music was blaring!
I rounded the turnaround (expected time: 2:12) at 2:05:11 and immediately stopped at the aid station to use the washroom. It was a great place to stop - the atmosphere was wonderful! A volunteer held my bike while I stood in line (behind two people - there were two porta potties). I told them to be quick! I decided it was a great time to eat my second wrap and did that while standing in line.
The washroom was great! (Never thought I would say that!) It was stocked with a tub of vaseline - which my chaffing was soooo happy to see, lots of toilet paper, and even some feminine products!!
I hopped back on my bike and continued on - I figure I lost about 4 minutes.....not a big deal.
The way back was uneventful - I did see Alex as she was coming in - I estimated that she was about 8k behind me at that point....
The end of the out and back was another split spot (expected time: 2:40) actual time: 2:35 - whew - the washroom break didn't cost me too much time!
I turned onto the 86 and got ready for the trip back to Placid. The last 20 km is a very very deceptive uphill....it's my least favourite section....but, I was determined not to let it get to me. (Check out the bike profile to see how much uphill there really is!! - this section is from about 40 to 56). I joked with some of the other cyclists by asking them if it was downhill back to Lake Placid. Some of them looked at me like:
tee hee.
Passing the KOA was great - lots of fans there.....although, the hill shortly after that ended with a parking lot off to the right was interesting....apparently that's where most guys pulled over to pee - there must have been 10 guys peeing!!!!
I tried not to worry about my pace, just my HR, and worked my way up the hills. It was pretty hot out by now, the sun was out, and the road was dry - which meant that the trip down to Keene on the second loop would be fun! I took my arm warmers off somewhere along here, I think.
I knew I was a bit ahead of schedule, and I knew that James was going to be at the Bears and the Cherries (which is about 5k from end of the first loop)....I was excited to see his reaction when I was early!
I started with Little Cherry - no problem! Then came Big Cherry....a little harder, not a big deal though. At that point, another guy asked me how many hills there were!! He had no idea about these last 7 hills....so, I spent some time explaining them to him....which took my mind off of mama bear and baby bear! Up ahead was Papa Bear - where I expected to see James.....there were tons of people there cheering me up the hill.....getting really close to me too....which was weird!! I didn't see James
but, I saw my coach and some people I train with as I rounded the corner....they seemed excited to see me....then....I looked up, and there was James - with the camera ready!
He jumped up and down and was super happy to see me!
I was glad he was there...I don't even remember working hard to get up f**in hill!!
I was looking forward to coming into town and passing EVERYONE (well, the fans, not the other cyclists!). I came onto Mirror Lake Drive - stopped quickly at the Special Needs Bag to get my new gel flask and ditch my arm warmers.....and my other salt pills. I stopped quickly at the bathroom again - some random person held my bike! (not a volunteer) - not that I cared!
I passed through town - saw BMan and Stella...then came through main street where there was chalk messages all over the road - I felt like I was in the Tour de France!! Crossing the mats after Lap 1 was nice.
I estimated a 3:50 for lap 1 (I told people 3:45!) - I did lap 1 in 3:41:38! I felt great, and hoped that lap 2 would be just as fun! Although, I really wasn't looking forward to the climb out of Lake Placid. I think I took my first advil somewhere around here as well....my back was starting to get a bit sore.
Although time wise I was only about 5 hours into the race...I was done 1.5 out of 3 of the disciplines - which made me a bit sad....excited to have accomplished this so far, but, sad that my Ironman was sort of "half" over.
Starting off on the second loop, I knew I was going to have to be careful with my nutrition. I was already starting to get a bit of the heartburn pains that I experienced during my last long brick workout. These can be debilitating on the run. I started taking Gaviscon instead of Tums since they are a bit stronger in hopes to avoid the heartburn. The tough part is that I NEED the nutrition, yet, it's the nutrition that causes the heartburn!!
Anyway, the climb out of Placid was tougher this time....but, I knew that once it was done, I wouldn't have to do it again. It took me longer than the first time around, and there were far less people around me. It was nice and sunny out though, and, I was still enjoying myself. The other athletes were more encouraging though, since there were less of us, and we were more of the "back of the packers" at this point. My race kit included two race bibs - one with my first name, and one with my last name. I was currently wearing the "Kiza" one - so, I got a lot of "good job Keeza....keep it up!"
Ah well, support is good. Once I finally saw my favourite sign in the world (see above), I got into position for the super fun 9km downhill.
I passed a lot of people again - except for one guy that I kept leapfrogging. He passed me at one point and said: "I see you have no fears on the downhills either!"
There are a couple of small uphills in this downhill that I swear weren't there the first time around!!! That was a bit frustrating!! I did get to take advantage of the speed lane though, since I was much faster than a lot of people on this section!! I'm surprised to see though that my top speed was a bit slower than the first time - only 69.1 km/hr!
I pulled into Keene to make the left turn and realized my downhill fun was now over.
I hit the lap button and saw that I did that section (strart to Keene) in 50:48 - which was about 3 minutes slower than lap 1 - not a huge deal...kind of expected. (I restarted my timer after lap 1 so that I could get comparative splits!)
The road from Keene to Upper Jay was uneventful - mostly flat/downhill - but, I did notice that it was tougher than the first time. I ate half of my twix bar, but, nothing was sitting super well in my stomach. My split at Upper Jay was 1:10:36 - wow, I lost another 3 minutes! Ah well....the important thing is that I was still having fun! I was leapfrogging with a lot of people....and still trying to enjoy myself. Ellie started acting up a bit - nothing extreme - her gears were squeeking like crazy when I was in my big chainring on the front and gearing down (to bigger on the back)....she sounded like a mouse! It was really really loud! It didn't affect my riding though, so, I soldiered on. I just couldn't sneak up on anyone!
I stopped at an aid station to use the washroom, and they had about 5 kids whose job it was just to hold bikes! It was great....there was another kid that had a tray of food - cookies, fruit, gels....and he was taking orders for drinks! (Gatorade/Water only though
). I had an orange - it was super yummy! The kids were awesome here....it was the best full service porta pottie stop I had all day!
Anwyway....I continued on up to Jay - split of 1:29:32 - wow. 14 minutes behind!! I DID predict that lap 2 would be about 15 minutes slower than lap 1, but, I didn't expect to be 15 minutes behind already! Ah well, I guess that full service washroom break took more time than I thought. Everytime I stopped though, my stomach seemed to feel a bit better than before, so, each stop was definitely worth it!
The climb out of Jay was really tough this time around. I stayed in my lowest gear possible....but, it sure seemed tough!! The kids in the Harlem gear were still there! They were great...they ran with each bike up the hill....cheering us on! God I loved them.
I made it to the turn for the out and back - split was 1:57:28 - last loop I was there at 1:41 (although "expected" was 1:50), so, I tried to remind myself that I was really only 7 minutes behind, and, the "expected" splits would get me in at 3:50, so, heck, I was still good! And, I still felt "okay".
I was quite jealous of those that were coming back from the out and back though - that meant they were a little over 20 km ahead of me. No fair.
The out and back was pretty uneventful - much less traffic this time around - still lots of people on the side of the road with flat tires though! I gave Ellie a pat and thanked her for being good to me!
I didn't enjoy the turnaround "Race Crew" water station as much this time (split was 2:23 (lap 1 - 2:05, expected - 2:13))....I tried to see it as only 10 minutes down, not 18! The music this time seemed super loud. I find that when my stomach is sore, super loud music makes it hurt even more. I tried to get out of there as soon as I could.
It sounds like I was really focused on my splits - I wasn't though....I just liked to know my progress, and, it gave me something to think about. The important thing was that other than my stomach, I was having a great time!
I passed Alex again as she was coming in - she was much closer to me this time - so, I told her that she was catching me! In my mind I thought....I should try to not let her catch me...that would be a good goal! I made it to the end of the out and back and felt sorry for those that were just starting it (knowing how jealous I felt of those that were coming out as I was going in!)....I hoped they would make the bike cut-off time! My split here was: 2:50 (lap 1 - 2:35/expected: 2:40) - hmm....I seemed to have made up some time!
At this point, a lot of self motivational talk was needed. I had a little over 20 km left. I could do 20 km - that's only a sprint tri distance! BUT, it's all uphill!!
That's okay....I can do 20 km....it will only be an hour...I can do this!! There are a lot of little "up and overs" as I called them.....I took each one as it came and just made it over the hill. (There were NO guys peeing this time at the top of that one hill - odd). I started watching the road right in front of me, instead of up ahead, I didn't want to see all the hills that I had to climb. I made my last stop at a porta pottie where a nice volunteer held my bike. He made sure I had everything I needed before I took off, so, I requested an orange. He had to run to the other end of the aid station to get it for me....which I didn't mind - the extra little break was welcomed! I also revamped my run plan during this last 20 km (more to come on that later) - it was nice to be thinking about something OTHER than cycling. Although....the thought of running a marathon was NOT a pretty one. Interestingly, during this 20km, it was the ONLY time during the whole day that I actually realized that I was running a marathon that day - I never really put the 42 km into "marathon" perspective before!
Once I finally made it to the cherries and the bears, I started my countdown - 1 of 7 done, 2 of 7 done......mama bear....done.....baby bear....easy!...papa bear - looming ahead! There were still a lot of people there cheering us up it.....and....Lesely and Barbara were there!! They jumped up and yelled (eerr, cheered) at me and ran up the whole way with me!! They definitely made it easier to get up it - although, they were a tiny bit loud (see above for loud music bothering sore tummy)
I do admit as well that it was a bit disconcerting that they could run beside me without a problem - I must have been going really really slow
Papa Bear - Done! Insult Hill - no one cheering on it this time.....but....done! Finally....I came to F*** hill.....there were some cheering people there....that helped. Then, I realized that I was DONE the hills!!
I turned onto Mirror Lake drive.........and saw that there were already people running there - which meant they were half way done their marathon!! Wow! That was impressive!!!!!
Lots of crowd support through town again - and up a little hill (which I don't remember on lap 1!)....around the high school....and....finally.....into the T-Zone!! James was there! I was kinda wondering when I would see him....I was so happy to be done the bike - and....Ellie's squeek was really starting to get to me!!!
Yikes - my shoulders sure are hunched there - I was obviously NOT thinking about posture anymore!!
Lap 2 time - 4:04 - so, 24 minutes slower than lap 1, BUT, only 11 minutes slower than the 3:14 "Expected time" - which means I wasn't THAT much slower for the last 20km than the first loop (surprisingly!)
Total BIKE TIME: 7:46
57/77 W25-29, 1935/2160 overall
Transition 2
I gave my bike to a volunteer who said they would rack it for me....I told them just to keep it - I didn't want to see it again!
(Luckily, he (she?!) didn't take me seriously, since Ellie is back safe and sound with me!)
I hobbled in my bike shoes over to the transition bags....
I grabbed my bag (which was hanging on the lower hook - beside my "morning dry clothes" bag - they shouldn't make you have to tHINK about what bag to take!) - another guy beside me grabbed the wrong one and was halfway to his change tent before I could point it out to him!! Anyway, I got into the change tent that had a lot more people than when I was in T1. I sat down on a chair and a volunteer came over right away and opened my bag and started pulling things out. I heard a couple of finishers finishing at this point!! (The pro men!)
"Do you want this" "Will you need this" "Are you changing your bra" "Do you need this bodyglide"? AAAHHHH!! It was really really stressfull!! I know that she was trying to help, and it was important to get me out of there quickly, but, it was stressfull!!
Alex came into the tent a couple of minutes later! (I guess I achieved my goal of her not catching me!)....and we chatted a bit as we changed. I applied bodyglide EVERYWHERE that I could think of - even used some of their vaseline on my arm which was pretty badly chaffed by then. I decided not to change my sports bra, put my run shorts on, my RM shirt, my hat, and my socks and shoes....grabbed the wet facecloth that I had in a ziplock and rinsed me face - which was heaven!! I put my water belt on and ripped my race bib in the process.
I asked if they had any pins, since I wanted to run with "Kiza" on my bib (even though I would get a lot of "Go Keeza"'s!) but, no pins were found. Luckily, I was prepared, so, I grabbed the other race belt that I had borrowed from James and put that one on (that said "Francis" on it.) I left transition to head out to the street! I started the Garmin (which synched up really quickly) and my countdown timer - 10 minute countdown) and off I went!
Total T2 time: 9 minutes. NOT Bad! I was expecting closer to 15 minutes!
The Run - 26.2 miles (42.2 km) - Also known as A MARATHON!
The plan (as devised during the last 20km of the bike) was to run 10 minutes straight then walk to the end of the aid station (which are supposed to be every mile). The second 10.5k, I would either run 9 minutes straight, OR, 8 - depending on how I felt from the first 10k. The third 10.5k would be 6 (if I went 10/8/6) OR, 8 (if I went 10/9/8)....and the last 10.5k would be 4 OR 7 - I'd play it by ear. I also had all of the wonderful/amazing inspiration cards in my water belt - I had about 26 of them - one for each mile!
The course was tough - I'm not sure if the map is to scale:
Profile:
Brief description - you start at the oval, go down main street - to sentinel (highway 73) there is a BIG downhill at the corner of main/sentinel, with a small uphill that follows (on the way out)....it continues through town (equals specatators) out to the horse show grounds. After that, it's lonely, but, a BIG downhill to the corner of River Road - where you go out 4km through rolling hills, and back about 4km...then, back into town where you have to go UP those BIG downhills....you turn on Mirror Lake Drive where you go UP again, do about 1km out and 1km back, and then....REPEAT!
As I started the run, I don't remember if my legs were sore. I was just happy to be starting the last leg of the race. Running down main street was cool - so many people cheering me on! There were also a lot of people starting their second loop - I saw a woman that I train with starting her second loop - that was amazing!!
I looked happy! (You can see Alex catching me - on the far left!) It was nice to see that James made it around to watch me leave on the run!
I ran right to the first aid station - which was only about 5 minutes away! I walked through it, grabbed some water - since I wanted to drink only water for a bit - HOPE that my stomach would calm down. I also ditched my water bottle - it was REALLY heavy on my back. I knew I could depend on the aid stations for water/gatorade. Alex cought up to me here, and we walked up the hill that was on the other side of the aid station. I told her what my run plan was, and she decided to follow me for a bit. We ran through town together....which was really nice! We hit the next aid station RIGHT at 10 minutes....so, another short walk break through it, and we were off again!!
The next 10 minutes I believe ended before the aid station, so, I actually got a little bit longer of a walk in! We went down the hill before the turn onto River Road and passed a girl (in a hot skirt) that was walking with a cane!! Wow. That's impressive!! (Turns out she got a stress fracture in her foot on her LAST training run! - she finished though!)
When we hit the aid station, there was a volunteer with vaseline - I had REALLY bad chaffing in my crotch area - so.....I said to Alex "Wait, I need to use some vaseline" - she responded..."uhh....I'm not stopping...."
Silly me! I then realized that we were already at 5k!! Wow....that went by quickly!!
5k split - 36:19 - hmm...not bad at all! (km's ranged from 6:47 - 7:34).
To be honest, I was kinda happy that Alex went ahead. I needed to run my own race, and, I was a tad worried that if I stayed with her, and she walked at a point, I would walk...OR, if I walked, she would decide to walk, even if she didn't need to. I was reading an inspiration card after every 10 minutes of running - they were so amazing. I gave a lot of them to Alex whenever we crossed paths as well....I'm sure they helped her (I got a huge THANK YOU!) during one drop off!
I was able to continue with my 10 minutes of running and walk until the aid station for the whole first 10.5 km (except for any uphills - I powerwalked those - and you'd be surprised what I could justify calling an "uphill"!)
The only problem with my plan was that I'm used to drinking immediately when I start a walk break - without my water bottle, I ended up walking until the aid station - this proved to be a bit of a problem whenever I wanted to take a salt pill NOW, or, a Tums NOW. The aid stations, it turns out, weren't EXACTLY a mile apart, either. One time, I think I walked for 6 or 7 minutes. But, it was soooo nice to walk!!!
2nd 5k - 40:25 (km's ranging from 7:42 - 8:59)
10 split - 1:16:44
Yup, I was slowing down - my heartburn was bad.
I hit the 10.5 km mark shortly after turning at the end of the River Road out and back. There were still lots of people on the course, since many were doing their second loop of the run and would be finishing soon!! Even though there were some fast runners out there....I couldn't help but thinking this whole thing looked like a death march. Wow. We looked horrible. (Yet we lied to each other - "you look great"! "keep it up") I heard a lot of "Good Job Francis"
I'm not used to being called by my last name...but, whatever works.
I made the decision to switch to running for 8 minutes after each aid station - mostly because it was getting really really tough to even run 5 minutes....and the last 5 minutes were killers. I also decided that any time I walked up a hill, I would stop my watch, since I was supposed to be RUNNING for 8 minutes before I got my earned walk. This part was definitely tough. I assumed my plan was working though. Alex and I were still leapfrogging each other (although, she eventually passed me for good when I stopped at a porta pottie!). The first hill back into town wasn't too bad. I powerwalked it (much faster than most people!) and started running again at the top. I was about to take an unscheduled walk break, and, as I hit the stop button on the countdown, I heard "good job Kiza" - it was my coach. Darn it. I had to run. I told him that I wanted to walk there...he told me to keep running.
I'm glad I did. I think the heartburn went away after a minute or two of running....before returning a minute or two later!
At this point, I was still taking in a gel every 5k, a salt tab every 45 minutes, along with a Gaviscon to help the heartburn. I also tried warm chicken broth (yum- the first time - blech the second time)....and, I tried coke - during the second loop - and spit it out. I relied on the calories in the gel and gatorade to get me through.
I also DID consider trying to puke. I think I leaned over and coughed once or twice, but, I was terrified of puking and losing all that nutrition that I took in - AND, I was terrified of making my stomach hurt even more....or puking on myself.
3rd 5k - 42:50 (km's from 7:39 to 9:09)
The hills into town were tough. Lots of crowd support though!
I saw Lesley and Barbara again: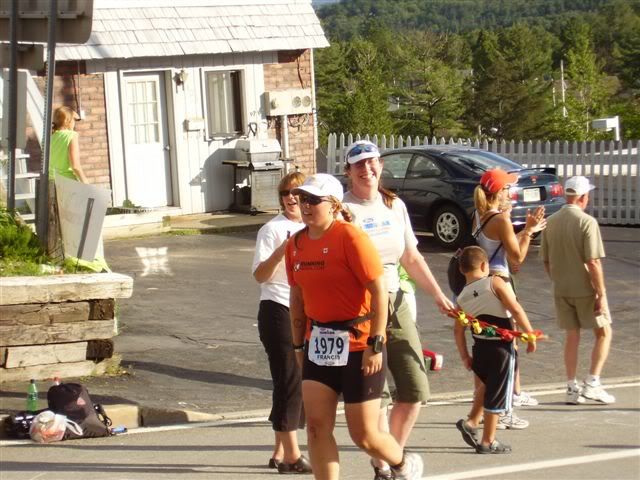 Yup - I was one tired maniac!
I pushed up those hills - past most of my training group - including one guy sitting in a lawnchair - with a medal around his neck!!
He was done!!!
I got up the hills and onto Mirror Lake Drive and James was there!
I ran by the special needs bags - thinking that I wouldn't need my longsleeve shirt.
There was an aid station there, so, I walked through it, as James walked beside me for a couple of seconds, and, I decided to stop at the porta pottie - where Alex came out of! I asked James to pick up my SN bags, since I didn't need them anymore and snuck a kiss from him.
When I came out, he told me that he would wait for me to come back from this out and back. It was a LONG out and back. I couldn't run AT ALL. My heartburn was at it's worst. Alex was coming back - and she was running strong.....slowly getting further and further ahead of me! As I turned the corner - a sharp left around a pylon....to add to my pain my left IT band screamed at me. I walked back to the SN bags area, realizing that if I was going to have to walk the rest of the way (which I figured at that point I would have to) I better get my long sleeve shirt. My SN bag was gone though. (James had done as I had requested!)
Luckily, he was a bit further up the road, so, I got my longsleeve shirt from him....told him how much pain I was in, and, that my 15 hour time goal wasn't going to happen. I was going to have to walk the rest of the way. I doubt I could run at all anymore. I think I got passed by tons of people during that 2nd 10k. I was trying so hard to keep my spirits high...but, they weren't there. I just wanted to be done.
4th 5k - 42:44 (km's ranging from 7:41 to 9:54)
2nd 10 - 1:26:26
I hit the halfway mark at 2:52 - I knew that I had to do a 5:53 marathon to make it in under 15 hours - I couldn't walk a 3 hour half marathon.
I was almost in tears at this point......but never once did I think that I wouldn't finish. I just thought that I would be walking the whole way back. Nonetheless, I re-set my countdown timer to 6 minutes kilometers. I would attempt to run down the long hill out of town and to the next aid station (well, at least for 6 minutes!)
James went to the internet cafe and posted this to keep the maniacs updated (as he had been doing throughout the day):
SherpaJacc wrote:8:00pm

*yawn*

Just got back from the car. With my little pass card I got to go in the transition area to get Kiza's gear and bike, so we don't have to worry about that later. What a ZOO!!!

Before that I got my first chance to chat with Kiza. Just before 7:00, she arrived at her "special needs" bag (which she didn't need) she stop to use the facilities. (and I snuck a kiss )

And who was in the booth ahead of her you may ask (well not really, because you'd have no reason to), it was ASTEW!!!

They'd been leap-frogging for a while I'm told.

When they came back from the turn around about 15 minutes later, there was Alex, but no Kiza

She was several minutes behind. Her chest pains were back and the gaviscon isn't helping.

There is no chance that she won't finish. But she's hurting. Send vibes!!!

Alex was still looking strong last time I saw her.

I'm off to "Ottawa Corner" to wait for her, then off to the finish line. I don't know if I'll get a chance to log in again.

But rest assured, the next time you hear from me, Irongirl will be and "Ironman".
I guess I passed Lesley on my way out of town - since she snapped this picture of me....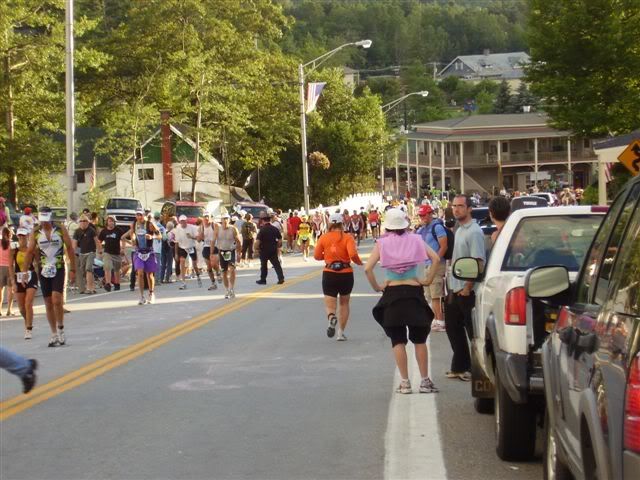 hmm...notice all the people coming back in from their second lap - and lonely me starting my second lap.
(Although, I *guess* they could have been behind me! - I doubted that though) WOW - It looks like I'm running!
What shocked me was all of the people yelling my name - saying "Go Kiza" - that meant that they knew me.
(Since my bib said Francis). I was really fortunate to have so many people that I knew along the course!! I even saw a guy I used to Lifeguard with come up beside me - remind me who he was and say "WOW! I can't believe you are doing this!" (neither could I!).
I made it to the aid station and walked up the hill (which I totally don't remember being there on the way out.) I counted the rest of my inspiration cards - realized that I had 13 left - which meant 1 per mile left....but, I told myself, ONLY if you run at least 6 minutes within that mile!! I came to the big downhill before River Road....and I had to walk down it. Running hurt my knee, my chest (heartburn pains) and my sports bra wasn't doing it's job - I ran for a bit actually holding my chest, I think!
5th 5k - 44:07 (8:10 - 9:32) - yup, I was hurting. This was downhill!! This can also be compared to my first 5k (almost the same route) - which I did in 36 minutes. Wow....it was going to be a long 16 km to go.
Running/Walking along River Road was lonely. There were far less people out there this time. As I walked by all the "inspiration signs" that were out there - I looked really really hard for the sign James made me - but, I couldn't find it.
(There were 1000 signs). They were set up WAY too close together as well - so hard to read them
Shortly before the turn, I saw Alex coming towards me - so, I drifted to her side of the road to give her a stack of inspiration cards - people started getting worried looking at me!! They thought I was delusional since I was running crooked!! I assured people that I was okay....and passed off a stack of cards to her (and got a huge THANK YOU!). I made it to the turn around....and I was given my glowstick ring thingy. Ah yes - the joys of it getting dark out.
6th 5k - 44:09 (8:05 - 9:52) - did I run at all?!!!
3rd 10k - 1:28:16
Cumulative Marathon time at this point was 4:11:36, TOTAL race time to this point was 12:20ish. Hmm.....I started doing "Ironman Math" - i.e. "What do I have to do the last 12.2 km in to finish in 15 hours?" I had been warned about Ironman Math - it's tough to think straight at this point!! I figured out that I had a little less than 1:40. Okay. 8 minute km's for 12 km is 1:36 (I think.)......So, if I held 8 minute km's I *could* do a 15 hour Ironman. LUCKILY, my memory of my last splits didn't register. Had I known that the last 10 km had been slower than 8 min/km (EVERY SINGLE ONE OF THEM)....I wouldn't have thought 8 min/km would be possible. Another lucky thing to happen was that my knee was really really sore. Yes, this was lucky. I KNOW how to deal with knee pain (popped an advil!) and, that knee pain will go away after the race....I started concentrating on the knee pain and tried to forget about the chest pain.
I told the guy that I had been walking beside (we had just had a good discussion about "Fast walking" vs. "slow walking" since we had passed someone who was walking the whole marathon that was almost catching us - who turned out to be Cindy!) that if we held 8 minute km's we could finish under 15 hours. His first reaction was "how did you manage to do that math?!" His second reaction was "how many minutes per mile is that?" Haha...I wasn't up to that kind of math. I should also note that it's REALLY easy to walk slowly. I managed to keep my km's under 10 minutes - even when walking - it's super easy to fall to 11 or 12 minute km's if you aren't careful!!
....