..... a PW can also be a PB.
Short story- 4:41:28 (yes you're reading that right), a whopping 46 minutes slower than my qualify.
- sickness, injury, and heat worked together to create the perfect PW storm
- I am more than ok with it, in fact I am still basking in the glow and think I'll be doing so for a while
- the final stretch along Boylston is pure magic
- dream come true
Long story:
Arrived in Boston Thursday evening and was met at the airport by my friend Jennifer. Drive to Newton was smooth sailing and she had pasta dinner ready for me when we got there!! Because I was up so early that morning I was more than ready for bed by about 10:00pm EST. I had no problem with the time change. Friday we got up and headed in to the Expo. I was so excited and was literally jumping up and down. Walking along Boylston and seeing the finish area being set up??? oh my goodness, I couldn't believe I was actually there. SO SO SO incredible. Package pick up was very easy, the volunteers were so great- everyone wishing you a great run and congratulating you on being there. Purchased the jacket but nothing else as I was trying to stick to my budget for the weekend. After expo we walked all around Boston Common, Copley Plaza, part of the Freedom Trail, Cheers, state house. I took many pictures and enjoyed the afternoon tremendously. We stopped for lunch on Boylston and I had clam chowder- yummay.
Friday evening was low key with dinner at home and game night with my friend's dh and ds. I slept well Friday and we set out Saturday to preview part of the course (from Wellesley up and over the Newton hills), we stopped at Wellesley and in the afternoon drove to Cambridge to visit Harvard. Saturday night we went out for dinner in Nonantum. Sunday morning we went to Easter mass and other than a little 3K shake out, I relaxed for the rest of the day. It was VERY HOT on Sunday which had me worrying for conditions the next day. The heat bothered me so much that I decided to take a pass on travelling back in to Boston for the pasta dinner. I packed my gear check bag as well as the little bag they give you to take out to Hopkinton. I did not get much sleep on Sunday night.
Alarm went off at 5:45 am race morning. I had coffee and oatmeal and rechecked that I had packed everything I needed. We left the house at 7:00 and my friend dropped me off at the T-station. It was already very warm and I knew that heat was going to be a factor. I arrived at Arlington station at 7:50 and as I made my way up to the street was overcome with the realization that this was it, I was really going to run the Boston marathon. Runners were everywhere, all smiling and happy and nervous and excited. I found the gear check easily and dropped my bag with no hassle or wait. From gear check it was an easy walk to the bus pick up. What a sight that is!!! The coordination to get those buses in, fill them, and get them out was something to see. I knew that I needed to pee before getting on a bus so I made my way to the lines. That took much longer than I had anticipated and before I knew it they were saying that it was LAST CALL for blue bibs to get on the bus. YIKES.
My seat mate on the bus was a nice guy from Modesto, California. It was his first Boston as well and we spent the drive chatting and eating bananas.
Arrived in Hopkinton and made my way to another porta potty line. I was expecting to have loads of time to kill but that is not what happened at all. By the time I made my pit stop they were calling blue bibs to the corrals. I was still expecting a bit of a wait in the corral but it seemed like we were walking to the start line before I knew it. This all crept up on me very unexpectedly. I didn't need the towel I had brought to sit on because I never had the chance to sit down! I didn't get to work on the crossword puzzle I had brought to help kill time, there was NO time to kill. I was so glad that I had brought the banana on the bus as I didn't get the chance to eat anything at the village.
So we're walking toward the start line and it's hot, really hot, really really hot. The walk continued and we were at the start although I didn't really realize that we were there!! I was still expecting some wait time. We did stand in wave 7/8 for a few minutes but it didn't take long before we were walking again and all of a sudden people in front of me are running and I'm thinking why are you running to the start area??? Freakin' heck I was so out of it. I look up and there is the START and people are running because they've crossed the start line. I give a little WOO HOO and raise my arm in the air and without fully realizing what's happened I'd started the Boston marathon.
My focus was to remain in control on opening downhill. Everyone had said be sure to control your pace, do not trash your quads, and I felt like I was doing a really good job doing that.
I overheard someone say that the temp was 75F
. Later I heard that with humidity it felt like 82F.
The heat had a huge impact on me.
The first 10K was 58:xx and I was ok with that. I tried to find my groove but that never happened, not once in this race did I feel like I was comfortable. That is new for me. It was unsettling and I was way too in my head. I couldn't get myself to just relax and let my body do what it needed to do. There was too much thinking. Between the heat and the mental I knew I was in for a rough day. Still I decided to give myself to half and then figure out what I was going to do, either continue trying to find my pace and sort myself out or pull way back and not worry about time.
The decision was made for me by about 20K. At half I was at 2:07:48, there was not going to be any coming back from that. It was here that I took my first of many walk breaks. I was taking water and gatorade at every mile, dumping one cup of water over my head and trying to sip from the second cup. I focused on the crowds, it was unbelievable to see so many people lining the entire course. I high-fived as many of the kids that were standing there with their arms out as I could, I thanked as many people as I could, I soaked up all the cheers an encouragement. I took freezies and ice cubes, ran through the spray of countless hoses. My goal became to try and take in as much as I could of the amazing vibe.
At about mile 14 I met up with two other runners who were going through the same difficulties as I was. I overheard them talking to each other, "I am so glad that I met you out here today"; "we're going to help each other get this done"; "we've got this, no worries"; "there is no shame in taking walking breaks on a day like today";. I looked over at them and said "I like your game plan". One of them says to me " You want in on this?" and I'm like heck yeah, so I joined them. Kathy from Michigan and Tom from Minnesota- I would not have been able to get through the rest of the day without them. We ran/walked the rest of the way, trying to take advantage of the downhills as much as possible and motivating each other to just keep moving.
When we were running our pace was not bad, we were holding a 5:35/5:40K. It's just that the running never seemed to last that long. My time was tanking and I didn't really care. Most likely I could have run more but I was committed to Tom and Kathy and there was no way I was going to leave them.
My friends had told me to watch for them at the firehall in Newton but I didn't see them. Turned out they were a little ways up the first hill and they were able to holler at me and get my attention. I was so happy to see them!!! Newton hills- I will run you next time I go to Boston but on this day I walked the majority of them. My body was done. My legs were tight. It was tough, toughest thing I've ever done. But I can honestly say that I was not upset or disappointed, not at all. The crowds were getting thicker and thicker. People were so incredibly supportive and kind and loud and it was awesome. At Boston College there were students offering beer and I did see a couple of runner stop and take a swig much to the BC students' delight.
3:30:xx came and went. 4:00:xx too. When my watch hit 4:30:00 I actually laughed out loud. I was worried that my family was worrying about me.
It seemed like it took forever but eventually the Citgo sign came into view.
Kathy had run Boston before and told Tom and I that no matter what we were running Hereford and Boylston and we were to soak it all in.st
That last half mile was like nothing I could have imagined. The pain, cramping, overheating all left me. I was energized and happy and just kept looking at all the people hollering and cheering. That final turn on to Boylston, I started to cry. Happy tears, dream come true tears, a promise kept tears. And then I sucked them back because I didn't want all my finish photos to be with ugly crying face. The smile came easily. I was so so so happy.
Kathy, Tom, and I crossed the finish line pretty much side by side and as we made our way past the overhead camera scaffolding we fell into each other's arms. I am pretty sure that my Auntie Karen had a hand in me meeting up with them that day. Her ridiculous enthusiasm was with me every step.
I have tears in my eyes now thinking about all of this. Was it the time result I wanted? absolutely not. Was it the most amazing experience? absolutely yes. Perhaps the hardest thing I've ever done but also one of the most satisfying.
I had thought that one Boston would be enough but I already know that I want to get back there and race that course the way I know that I can. There is only room to improve on that time and perhaps one day I'll get that chance.
Thank you Boston for the incredible experience. How very lucky am I?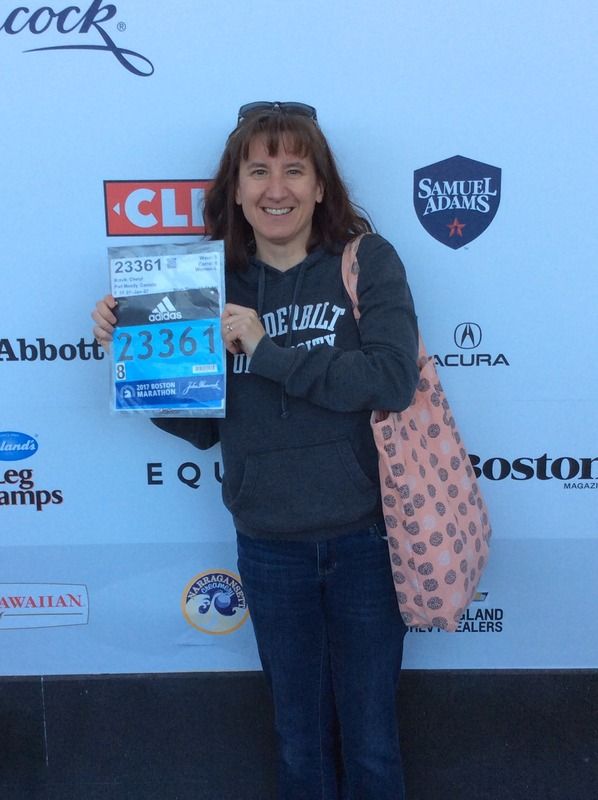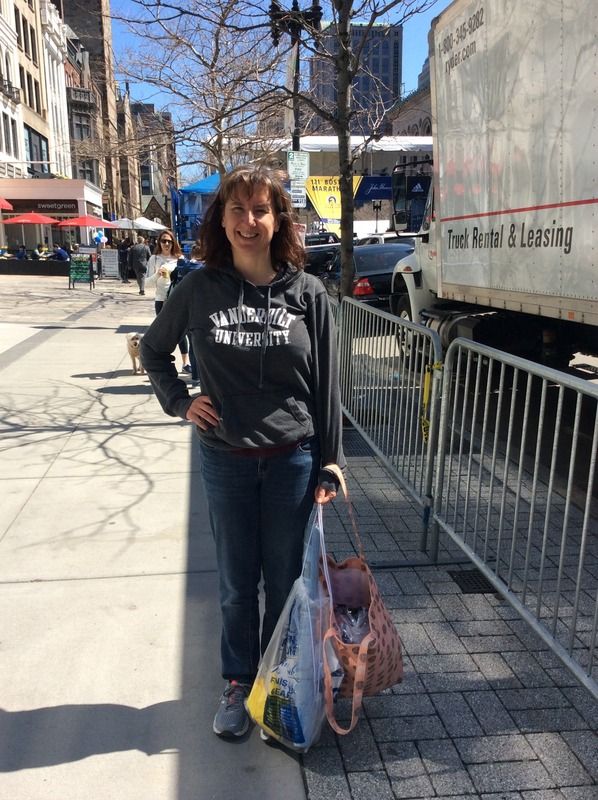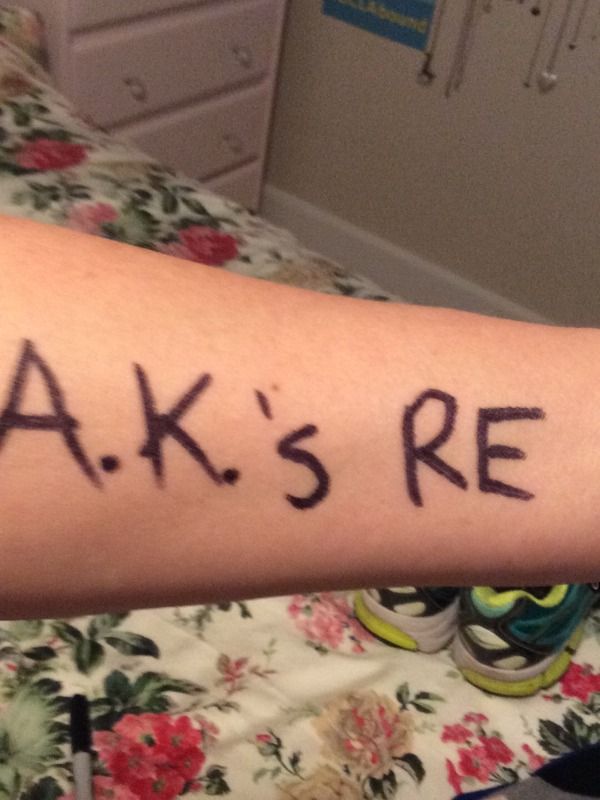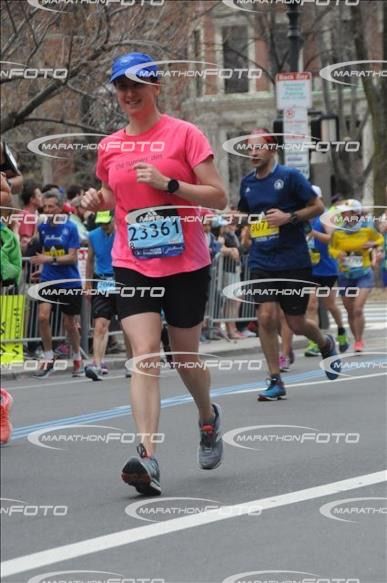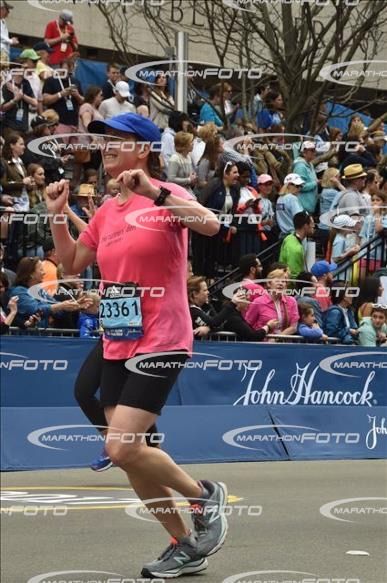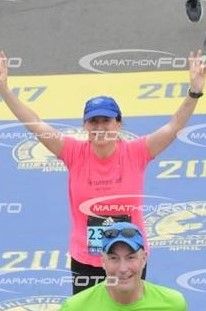 We made it!! Kathy in gray tank, Tom in lime green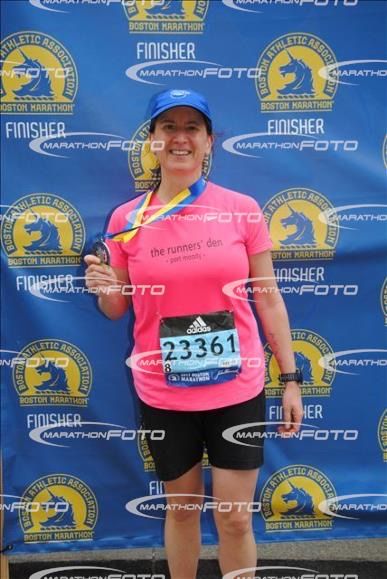 When you run Boston with ridiculous enthusiasm you are able to take all those damn lemons and make the BEST lemonade.