My big race for the year is the Seawheeze half marathon on August 12, so because Habs always seems to end up in Red Deer to race the marathon and I seem to come watch her, I thought that signing up for the 10k race would be a reasonable goal. Because I have been building my endurance slowly with the goal race in mind, I did not think I wold be ready for that half this year. I did not go into the race with any huge expectations but a few weeks ago I thought that I could finish in less than an hour. Last week I looked up the results from last year's race and saw that only about 7 people in my age group finished under that hour and that lead me to believe that the race was either very challenging or not a pot of people chose to run it.. Either way I thought that was a reasonable goal.
I had difficulty sleeping the night before and my stomach was a bundle of nerves, which it usually is the night before a race that I have set a time expectation for. The morning of I did some deep breathing. Here is me at the car before the race starts, and a bit before remembering I left my Garmin at the hotel!
After a quick pit stop I said bye to everyone and did a brief warm up before settling in at the start line. I had an emotional text exchange with a friend who also has RA and is training for a 10k. She gave me wonderful words of encouragement. Here you can't see the tears in my eyes.
Moments later I'm off!!
Cute shorts hey?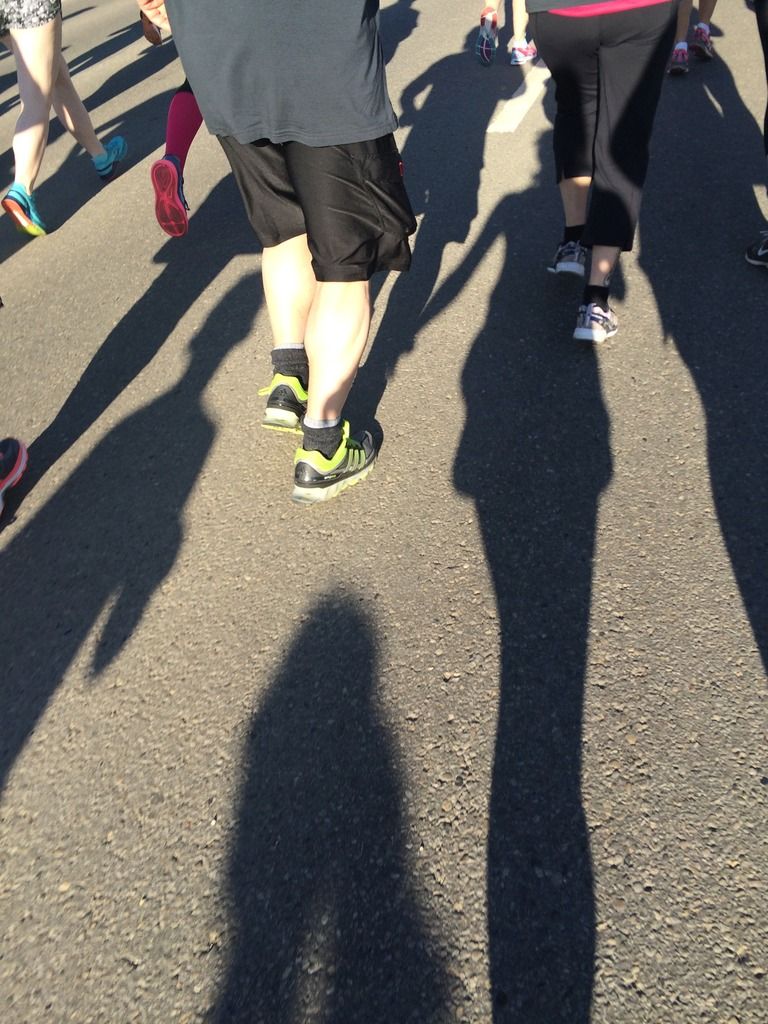 Because I didn't have a garmin, and I refused the offer of one because the race was less about the time and I didn't want the feeling of failure if I couldn't stay below a particular pace, I just used the MMR app on my phone and snapped this shadow action shot. i looked at the pacing for about the first km and then decided that I would drive myself less crazy if I just ran by feel. I am pretty good at figuring out pacing in a race so i relied on that. I zigged and zagged a bit of the beginning and kept saying "this isn't a run, this is a RACE". I did reasonably well passing more people than passing me and then eventually found myself in a good spot. There were a couple of times where I could feel myself slowing down but I was doing well and getting the speed back up. I resisted the urge to look at my phone the whole time or even asking someone what the pace was. The course is reasonably shady but there are a few places where it is open to the sun and I had to dig deep and push through. Between km 7 and 8 we have to go up an overpass, in the sun with a head wind and I managed to run the whole thing. I walked a bit in the last water station because I was starting to feel the signs of low bloodsugar. There is a point on the course where we got to head to the finish (yay) and the other half and full racers have to veer to the left. It's a long straight away in open way to the last hill and then downhill to the finish. I pass the 9km marker. yay! Then the 20km marker for the half about 100m after (what?) and then the 41km marker anouter 50m or so after that. So we went from 1 km to go to 1.1km to go to 1.15km to go. Pardon? So the reason that it's hard to break an hour is becasue the course measures long (about 500m by both my mapping programs). Anyway, I round the corner to the finish expecting to see 56 on the clock based on my perceived exertion, but it was 59. I pushed as hard as I could to the finish. Crossing just a few seconds over an hour. Seriously?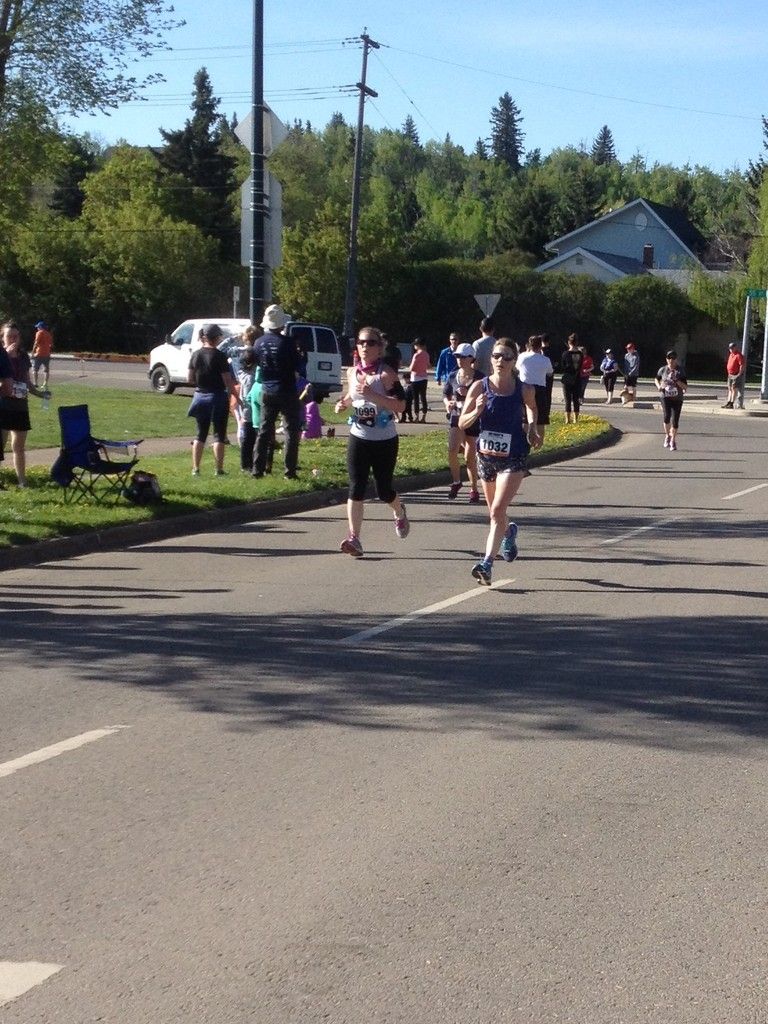 I had absolutely nothing left at the end of that. I crouched low to the ground for a good minute after that and could barely sip from my water. Eventually I got some food in me and checked out my results: chip time 59:54 for 147/518 overall, 60/357 female and 7/74 age group. Not a bad result.
I very much enjoyed spending time with Jen Laura and Sue and thank them for the pictures they took of me.