I will try to stick to my race report, and not an event report.....
When I joined the team, my only stipulation was that I had a hard leg. Since I normally run the marathon on this weekend, my thought was, if I'm missing the marathon, I better do something tough. So, I looked at the descriptions of the legs and chose leg 4, rated a 5 out of 5 on the difficulty scale, with the following description:
The first 9 km are continuous easy ups & downs but the best is yet to come. You must now climb Cape Smokey which is 2.1 km of

extremely steep grade.

For distraction there is a wonderful ocean view and you

may even spot a whale

! Relax for the steep downhill on the way to the finish.

A couple more hills

will take you to the finish at Cape Smokey Ski Lodge on the left.
The elevation profile for the whole event looks like this:
(notice the directly vertical "thing" in leg 4)
And, finally, Nick's description of leg 4 is:
Leg 4 is Smokey and can be a killer if it is hot (it's run at noon) or if there is a 30mph headwind (the year I ran it)
Looks good to me, I thought!
The look on anyone's face (that has done CTRR) whenever I said that I was doing leg 4 was similar to this:
- then, ALWAYS follwed by "at least it's not leg 9!!" (Poor James who was usually standing beside me.....and was doing leg 9!)
Anyway...the race.
I started at 11:49 am - it was raining at the beginning of Brendan's leg (leg 3), and, I was still trying to decide what to wear for my leg - tights, shorts, long sleeves, short sleeves????? I actually said "well, Brendan wore a jacket, maybe I should?"! tee hee...then we saw him stripping his clothes off!! So, shorts and a t-shirt it was!!
I lined up and was really really really nervous. I knew there was this BIG HILL at the 9 km mark...but, really, how big could it be? I had NO IDEA what to expect!! I decided to run it doing 10/1's and hoped for a 6 min/km pace. I was holding about a 5:45 pace for the first 9 km! I felt great!! I was happy, and even joking with some of the locals that were cheering......to one couple I said "umm....I heard there was a hill up ahead....is it big?"
They looked at me like I was serious and that I had no idea!!
Anyway, I was near the back of the pack - third from the end until about 4 km, when I was passed by someone from the Gnome team, so, I was 2nd last...which was okay with me (I was secretly hoping to not be last!!) The support vehicle was great....I had requested that they stop every km to make sure I was doing okay and just for the general support - it's lonely out there!!! They played my song (Eye of the Tiger) the first couple of times that they stopped - until I got sick of it.....so, I got them to change it up....whenever I met up with them, James would run along side me for a bit, which was a nice distraction!! I gave him my sunglasses early on in the leg, since it was still misty out....
So....garmin then says 8 km, and I'm thinking...okay, I feel good...the hill is coming up soon, I'll be just fine......I can do this. The sun was starting to come out and it was a nice day out!!
I see Brendan and Dennis and Jo-Jo stopped up ahead to cheer me on - with the camcorder out! I come up to them smiling, turn the corner and see THE BIGGEST, MOST STEEPEST, WINDIEST HILL I have ever seen!!!!! Holy carp!!!!!! (They got my reaction on tape!) I think I threw my head in my hands, pointed at it, gasped, then, decided to not look at it again. (The hill is called Cape Smokey)
This is EXACTLY what I saw (minus the runners - I was alone!)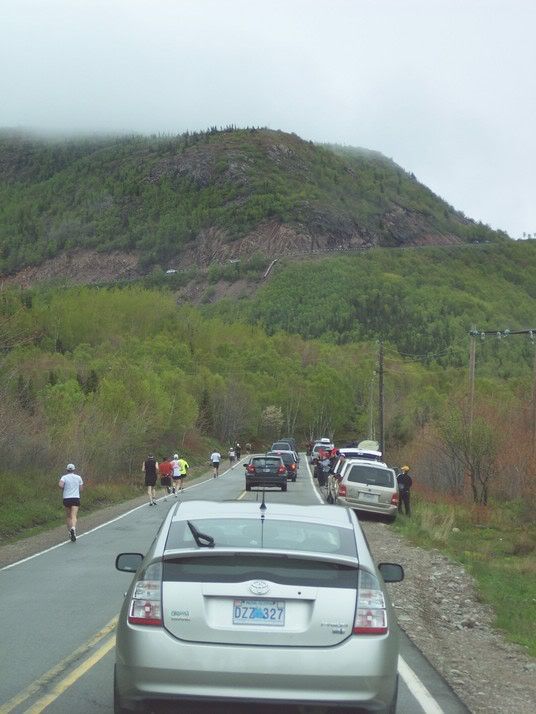 I'm going to steal some pics from Trish here.....
I was down on the road (far right of the picture) and could see runners and cars up on the road in the left of this picture....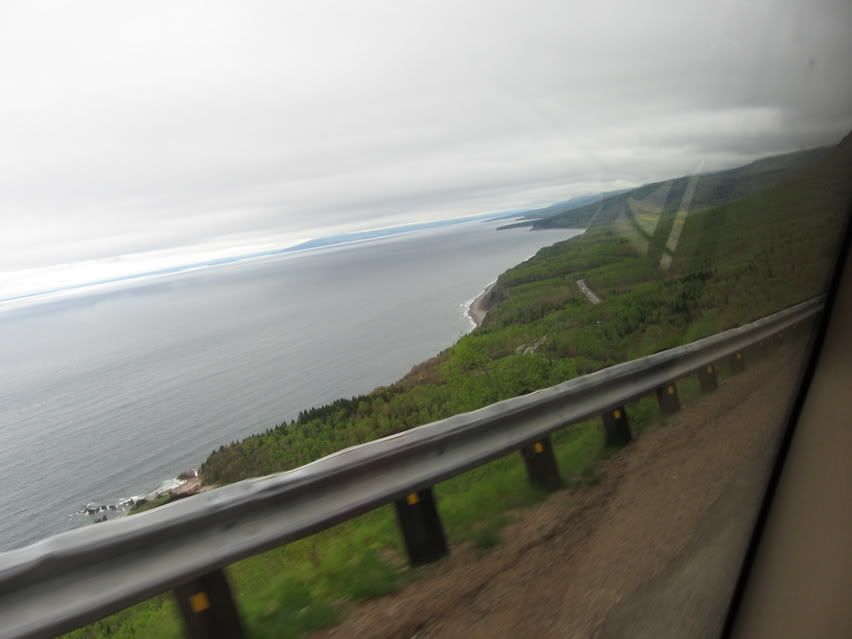 Hopefully that gives you a bit of a sense of my reaction......
I still had a km to go to get to the bottom of the hill. . The suport vehicle drove by, asked me if I needed anything else before the top of the hill (they weren't allowed to stop going up the hill.) I said I would be okay (well, I asked for my iPod - but, it wasn't in a spot where they could find it! - my fault!) Then....they drove off. I was alone until the top, just me and Smokey. That kilometer involved a lot of self positive talk - "I can do this. I will walk/run up that hill. I am strong. It's only 2.1 km, then, it's downhill." I got to the bottom of the hill where there was a water station - I had yet to look at the hill again....even at the water station, I kept my head down. I asked the water station team if there really was a hill in front of me....they laughed.
I started running up the hill....holy carp. I think I could have reached forward and touched the road in front of me. I looked at my garmin and saw my pace dropping FAST to about a 9:00/km and I was exhausted. I had gone maybe 100 m.
Okay. Must reavluate my secret goal of wanting to run up the whole thing!!!! I decided to walk - but walk fast. I managed to maintain a 9:30/km walk.....a flew by two guys that were walking.....they told me to join their party - I told them I had a mountain to conquer! I decided to do 5/1's (5 minute walk, 1 minute run) - I could maintain about a 7:30/km pace for that 1 minute.....before I started almost dry heaving. It took almost 2 minutes of trying to slow my breathing down after each minute of running before I could drink again.
Looking at garmin, I knew when I was halfway to halfway...then, halfway...then, halfway done since halfway (I like halfway stuff!)...at about the 3/4 mark, I started hearing this amazing banging noise coming off the guardrail. The hula girl team had some people sitting at the top, on the guardrail, banging on it with rocks....the echo came all the way down the mountain - it was really cool!!! (and a great distraction.) Seeing whales would also have been a great distraction - so, I looked for them - turns out that it's too early in the season for whales
(why put it in the description then?!!!)
It was getting really hot out, I was squinting since the sun was out, and my arms were getting burnt. I looked up and saw James running down the mountain towards me!! I was really close to the top!!!! He was wearing my sunglasses...which was great - I took those right away. We walked/ran the rest of the way up together (probably only 200 m left!!!) I made it to the top to the "Chicks running Clicks" water station.
Oh glorious chicken!!!
Then it dawned on me. I had did it. I SMOKED SMOKEY!!!!
I looked back, and the two guys that I passed were way back there. Although I had walked.....I was pretty quick (relatively) up that mountain (about 18 minutes for 2.1 km!)
The hill crested and I started my descent......wow, that was fun!!! I was flying!! My legs weren't dead! (I was worried that I could possibly be walking the last 9 km in!!) I felt great!! With the water on one side, and just me and the road, I felt like Terry Fox running in Northern Ontario. I teared up a bit when that thought hit me.
I passed the support team again.....and heard Kristi comment "wow...she's looking strong!" It was great, since it wasn't directed at me....I knew it wasn't a "you're looking good" lie that gets told in races!
I continued with my 10/1's.....saw the support vehicle again - with James running towards me....and he said "There's a guy down up here - just wanted you to know so it didn't shock you." I turned the corner and the ambulance was servicing a runner. I felt really bad for them....hoped they were okay....and thankful that I had been warned about it!
I had to slow myself down going down some of the hills - I even ran a 5:00 km at one point.....although I could tell that my legs would pay for that. The small downhills towards the end of the leg hurt the most...I had nothing left to brake with....but, if I let myself fly down them, I was sure my legs would buckle. The last 9 km were interesting....very "alone" running....only the support vehicles (ours, the hula girl team and the gnome team) were around.
I saw Brendan again at the 1 km to the end mark - right before a big hill that I had to walk up. He sarcastically said "what the he!!?"
I stopped, glared, and continued to walk up. I know he was trying to be funny......but, I was exhausted, and I felt guilty for walking, so, it was just bad timing....but it did give me something else to think about!, I walked it strong, and continued on.
There was one more hill....right at the end!!! Argh!! I couldn't walk that one since the crowds (or, what was left of them
since the next leg had already started) were there......so, I charged up there with everything I had left and came into the ski lodge parking lot strong!
Overall, I finished in 2:06 for a 6:20 pace....without Smokey, I was a 5:55 pace
....and, 59/63 (I gained a lot more ground on those two guys!!)
I was really happy with it!!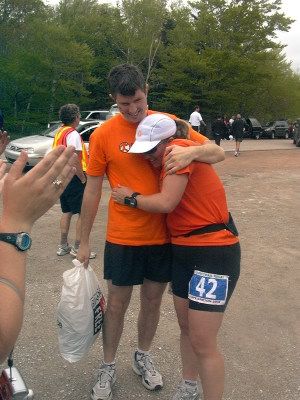 I'm really glad I chose that leg....and, of all the legs that I saw - I liked mine the most. I want to do it again. I feel like I might have had more in me....
[/img]